The Hancock-Henderson Quill, Inc.

---
A Glow Of Remembrance
by db Conard, The Quill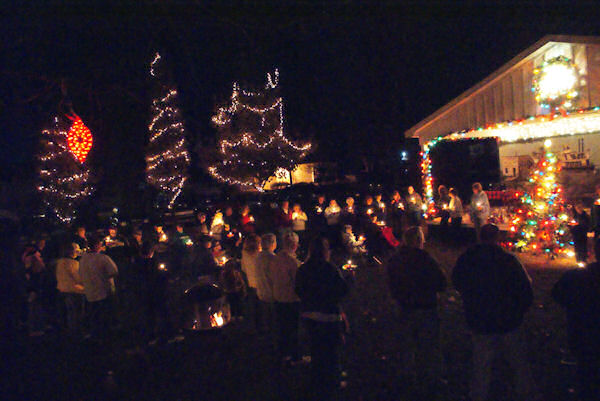 The warmth that came from sharing the lighting of a candle was something to see as I watched the people that gathered Saturday night in Oquawka in the park by the Mississippi River.
It was the 9th annual candle lighting ceremony to remember lost loved ones.
Lydia Williamson suffered the tragic loss of her son Tom (Thomas Sells) in May of 2000. To help re-direct her pain, Lydia focused her attention on something positive, which was a way to celebrate a loved one's lost - thus a remembrance vigil was born. From her pain she has touched an increasing circle of people who are finding comfort in sharing and remembering their loved ones around the holidiays with others who have had losses.
This year Lydia's efforts touched almost 60 people who gathered in the park south of the Oquawka Museum. For the past nine years, the number of people turning out for this gathering has been increasing. Reverend Jeff Robbins opened with a prayer followed by Lydia telling the why of the gathering.
A poem was read by Nancy Furnald, and then a real surprise was offered when Sheri Simpson sang a Christmas song that made you think, "Wow, that girl has a beautiful voice, and can she ever sing! "
The light, from passing the flame from one candle to the other, took on special meaning to everyone who came out Saturday. People of all ages standing side by side in a half circle were united by the ache of loss, and also by the light they shared.
First the candles were lit then one by one they were blown out after each had named their loved ones and remembered.
At the close of the gathering, each hung an ornament on the tree as a final remembrance that would remain for the Christmas season in celebration of friends and family no longer with us.
It was a goodness unveiled of loved ones remembered for everyone there.
I believe next year it will grow to touch even more lives in mourning and celebrating a life by a unique sharing between neighbors. It soothes the pain of loss through the holidays, and celebrates life and the importance of community.
---