The Hancock-Henderson Quill, Inc.

---
Need A Limo? A "Classic" Came To Summerfest
La Harpe Celebrates Summerfest 2009
by: Misty Huston, Quill Reporter
It was a lot of fun and La Harpe was quite a busy place this past weekend as the active town held their annual Summerfest celebration.
The four day event offered a variety of activities for people of all ages to enjoy, including musical entertainment, a frog jumping contest, turtle races, a one-block kid's race, kid's games, a carnival, nightly drawings, a historic train display, a parade that sported a "classic limo," (Dale Eckhardt relaxing on a manure spreader), and of course, food.
The festivities began on Wednesday with musical entertainment provided by the Blackwood Gospel Quartet and a carnival including both rides and games.
Thursday was a hoppin night with the 32nd annual Lions Club frog jumping contest taking place.
The frogs are placed on the starting point, a dot in the middle of the basketball court, and are given three jumps.
Wherever they land on the last jump is measured from the dot and the person's frog with the most distance is the winner.
Some contestants brought their own frogs and for those who didn't have a frog, Lion member, Carl Lee, provided several frogs to be used.
All contestants received tickets for the carnival and the winner received a trophy. The winners were as follows:
1st place Jeightlin Sickles,
2nd place Skyler Moore,
3rd place Saedi Windsor.
I was told that Jeightlin seems to be following in her dad's footsteps, as he was the frog jumping champion for three to four years when he was a young boy.
Also featured Thursday evening was musical entertainment by The Lemmings, which included La Harpe's own Dan and Lisa Ayer and several other talented musicians. They played a variety of roots music-a blend of old time, gospel, bluegrass and Celtic tunes.
Friday's activities included a diabetic screening sponsored by the Lions and the First State Bank of Illinois Customer Appreciation Picnic.
Friday evening activities included the 33rd annual Lions Club turtle races plus musical entertainment by RIVERTOWN, a Burlington, Iowa band which included Alan Mehaffy, a former La Harpe resident.
The group entertained with a variety of music including contemporary, country, some James Taylor, bluegrass, Eagles, gospel and folk music.
Saturday was a full day of activities, starting first thing in the morning with the one block kid's race. This race is sponsored annually by the local First State Bank of Illinois in conjunction with La Harpe Summerfest. There were 17 participants who ran this year.
Trophies were awarded to first and second place contestants in both the girls and boys division for ages 5 and under, 6-7, and 8-9.
The winners were as follows: girls 5 and under, 1st place Jeightlin Sickles and 2nd place Erika Yard; boys 5 and under, 1st place Max Richardson and 2nd Ethan James; girls 6-7, 1st place Bailey Brown and 2nd place Karrigan Yard; boys 6-7, 1st place Chase Claassen; girls 8-9, 1st place Skyler Moore; boys 8-9, 1st place Austin Torrence and 2nd place Duke Sturek.
Following the race there were kids games sponsored by WCAZ held at the basketball court in the park. This included several games for the children to enjoy, such as water relays, an egg toss, WCAZ says, and a water balloon toss.
All participants received various certificates to get free food and treats donated by businesses including, Buffalo Wild Wings, McDonald's, Dairy Queen and Ayerco.
The main attraction for the day was next and that was the big parade. There were a variety of entries in the parade including fire trucks, an ambulance, floats, Miss Hancock County and Little Miss Hancock County, mowers, 4-wheelers, bikes, a 1991 Chevy honoring Desert Storm, an antique truck and tractor, a mule and cart, horses and carts, cars and miscellaneous.
The parade was lead by American Legion members presenting the flags. The La Harpe Historical Society served as the Grand Marshall for this years parade.
Following the parade there were more kids games sponsored by WCAZ. This included a hay scramble, where the children were given the opportunity to dig through the hay stack and look for the hidden treasure, money, being able to keep what they could find.
There was also more water balloon tosses and egg tosses. Participants received more certificates for free food and treats.
That evening the stage was brightened by the King Family, featuring their seven children.
They combined instruments and voice to create a family Branson-style show. They amused the audience with banjo and fiddle favorites as well as many gospel favorites.
The American Legion presented The Colors, as well as retired The Colors each evening.
We can't forget one of the main attractions of this event, and that was all the wonderful food that was available throughout the festivities.
There were nightly suppers served by various organizations, a breakfast on Saturday, Tacos and cakes, pies and ice cream served by the Golden Rule Club and churches. All who helped in anyway deserve a big "Sa-lute!"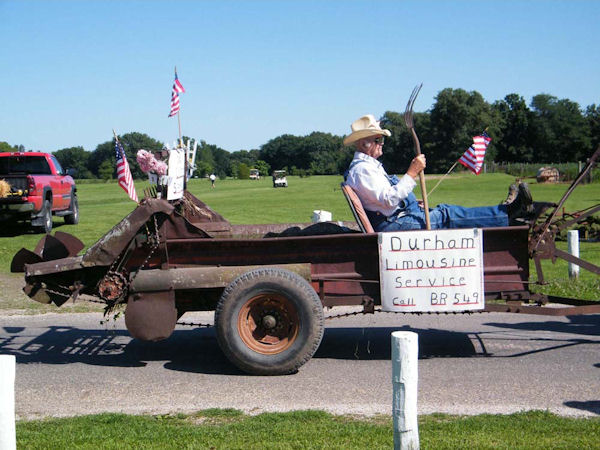 Jeff Eckhardt pulled an old manure spreader that his dad Dale Eckhardt of Durham stretched out on with a pitch fork in hand during the Summerfest parade Saturday. It was advertised as "Durham Limousine Service, Call BR 549" an idea that came from the old "Hee Haw," classic country comedy series that ran on television from 1969-1993.
---