The Hancock-Henderson Quill, Inc.

---
Thayers Enjoy Showing In Fred Gibb Memorial Show
by Dessa Rodeffer -Quill Publisher
A lot of classic car enthusiasts and Fred Gibb admirers rolled into La Harpe Saturday, August 1st to take part in the 11th Annual Fred Gibb Memorial Open Show including Mr. and Mrs. Rick Thayer.
Rick, his wife Diane, and their dog "Nova" came 1,300 miles from New Hampshire on invitation of Mrs. Fred (Helen) Gibb.
Six years ago, Rick and Diane had been advertising for a 1968 Nova with a big block engine in the Nova Times. A fellow (Tony Setta) in Keokuk, Iowa had sent his ad into the Nova Times to be published and missed the deadline. He was frustrated and seen Thayer's ad and gave him a call and said "I have this "68 Nova if you are interested in it. It's a Gibb Nova if you know what that is."
"I had just barely heard of them," Thayer said, and I told him I would think about it, then called him back and told him I would take it."
So they agreed on the price and the following month his ad appeared in the NOVA TIMES and he received lots of calls and several said they would pay a lot more than what Thayer's offer was, but Setta stuck with his word and Thayer happily took the Gibb NOVA.
Rick and his buddy drove from New Hampshire to Keokuk, Iowa. "I had never been to Iowa before but we picked her up and put her on the truck and hauled her all the way back to New Hampshire.
"I remember getting home and it was 17 below zero and I woke up worrying about the possibility that the radiator might freeze and ruin the engine so I went out to my trailer and I stuck my finger down in the engine to make sure there was no ice."
"I got the car and am very proud of it and I felt a real obligation to return the car to its original quality and beauty. I just think the "68 Novas are very special.
" I didn't have a lot of experience and I checked around with some of the other people I met in the hobby and everyone that I spoke to recommended if I was going to get the car restored that Brian Henderson and Joe Swasey at the Supercar Workshop does excellent work in La Troy, Pennsylvania. So I called Brian and he was excited to do the work but there was an 18 month wait because he already had so much work."
So, 1-1/2 years later Thayer took Brian the car and 2 1/2 years later got it back. "It was beautiful," Thayer said. "There is somthing about the style of the Nova.
He had always been interested in automobiles and in his youth had some muscle cars, but never participated in the hobby.
"I've always been attracted to the Novas and I love the 68 to 72 Nova style. I didn't realize at the time how rare the 68 Novas are. They only made 667 of these big block Novas and fifty of them were the Gibb Novas. Since I have gotten back into it, I now own six Novas. I have two 68's and three 69's, and one 67. I built a new garage to house them all and I have a very understanding wife. She's been wonderful. Everytime we tour and go to a show, she goes with me and so does our dog, "Nova".
"The very first car that I owned was a 1968 Nova," said Diane (Rick's wife), "only it was a four door. So, the Novas are very special to us.
Diane said they were very fortunate to be invited to their first show in Chicago where they met Nancy and Helen Gibb and they have stayed in touch since, and become best of friends.
The Thayer Nova is #38 of the fifty Gibb COPO Nova's. and Rick said, their fatham blue Nova is the same color as Helen's #50 Nova.
The Andy Hartwig car is greechen green and they also made several in red, but there has only been one red Gibb Nova found to date. Someone from Arizonia, bought it in the Jackson Barret Auction, Rick thought.
The Thayers enjoyed the Maple City Cruise night and said they had never been to an event like that.
"There were 2400 cars showing there and it was very low keyed, relaxed, with people enjoying themselves just mulling around. We had a wonderful time there."
The excellent make-over artist from the Supercar Workshop in LaTroy, Pennsylvania, Brian Henderson came with the all alluminum red Dodge, a very rare car, Thayer said, built specifically for drag racing. It is all aluminum (doors, fenders, hood) to make it lighter, and only 55 of these cars were made. It, like the "Red Alert" is very loud on start-up.
"There are some very special cars here-pretty rare," Thayer said.
One woman stopped to say she heard Jay Leno had put an offer on a car that was at the show of $300,000 and was turned down, but were still negotiating.
The Quill hasn't been able to find out anything specific enough to follow up on what car or who the deal was with.
Thayer said, "My Nova is not for sale, I will die with that car. It's not about the money. I'd rather just enjoy it. "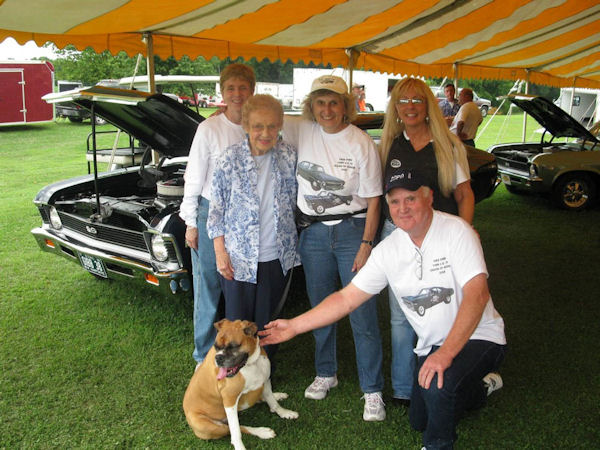 Rick and Diane Thayer came 1300 miles from New Hampshire to show their #38 Gibb 1968 fantham blue Nova. They proudly stand with the late Fred Gibb's family, Nancy and Helen Gibb of La Harpe, and Connie Gibb of Galesburg.
---