The Hancock-Henderson Quill, Inc.

---
Take "The Quill" Along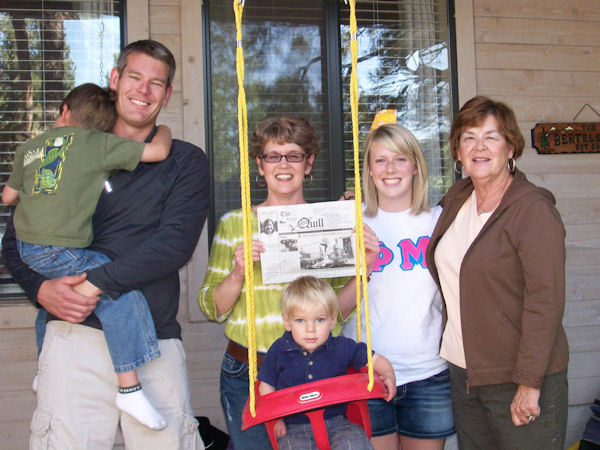 Jane Chandler, Laura England of Oquawka and Jessica England of Columbia, MO took "The Quill" along May 28th to Flagstaff, Arizonia to visit Jane's son, Andy Bertelsen and his family. Evan is hiding his face and Wesley 21 months, is patiently sitting in the swing while Andy's wife Erin snapped the picture. Andy is a 1993 Union graduate. Young Evan was 4 June 1st, celebrating with everyone on the 30th. He thought his coolest gift was the old "Star Wars" lunch box belonging to his dad which Grandma brought from Illinois. From left is Andy holding son Evan, Laura England, Jessica England and Jane Chandler with Wesley in front.
When you go on a trip, take "The Quill" along and have your pictured taken with it, then send it to us. Let's see where all "The Quill" can travel.
---