The Hancock-Henderson Quill, Inc.

---
Terre Haute U.M. Church's Annual Fry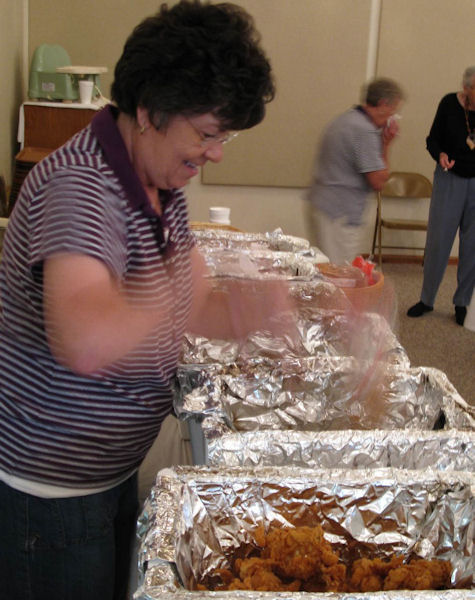 Last Thursday, August 6th, Carolyn Trout, of the Terre Haute Methodist Church was happily working, filling plastic bags with delicious fried chicken and fried fish for those who would like to take some leftovers home. It was hard for her to keep up with the takers as the food was cooked to perfection.
The annual event sponsored by the United Methodist Church of Terre Haute, has been a popular get-together for the area and money maker that helps this small active church meet its obligations of "Conference Claims" to the Methodist headquarters where on their own, they really couldn't afford to pay, said one organizer.
Although, the church is sporting a new Fellowship Hall which has been so popular throughout the area for gatherings, meetings, receptions, as well as an active Sunday School, it came from a church active in prayer and working side by side and from non church members contributing as well.
Everyone in the church helps, Sherry Butler said, as she sat to enjoy some fish and salad near the end of two very busy days.
Sherry is one of several organizers who share in the responsibilities of organizing the event along with Vieva Pence, Virginia Palmer, Elizabeth Rankin, Kathleen Elston, and Steve Painter. Steve oversees the chicken and fish frying, but mostly it's about everyone taking part and working together.
The church has been doing the annual event for over 80 years and without a hitch, Sherry said, "Since we built this building it has made it so much easier to prepare and serve this dinner"
"When it comes around you think, "Is it time for that again?', and then you just know that is what you do on Wednesday and Thursday, work at the church.
Everyone gets involved, she said. "Look at all the people that stay and help clean up."
"It really begins about a month ahead.... with advertising, purchasing, soliciting for so many gallons of potato salad and a variety of other salads, and that kind of thing. Everyone works really hard the day before cutting up the chicken and the cole slaw, and fresh fruit, grapes, and melons, setting up the dining room, getting all the dishes out (we use real plates and silverware). We use real plates because we have enough and have a dishwasher, There is not enough cups so we use plastic or paper cups for the drink.
Thursday, there is the preparation of Catfish and Chicken for frying, and Steve Painter and the other men of the church fry the chicken and fish to perfection. About 15 or 20 are there to help.
Meanwhile, Sandy Cox is in charge of all the fresh flowers on the tables and several members donate flowers to help her decorate.
The dressing is put on the cole slaw, Two huge containers of fresh fruit salad is always a hit and runs out yet no one goes away hungry. In fact, there is leftover chicken and fish to giveaway.
About 365 people came, which is a good crowd and pretty average, Sherry said, and many are familiar people that always comes, but the crowd varies and everyone is welcome and seems to enjoy the meal and the visiting.
With the Fellowship Hall complete, air conditioning, large ceiling fans, a large kitchen equipped for serving it has made things so much nicer.
The Fellowship Hall is all paid for and they had saved 70% of the money before they started on it a few years back. Sherry said today it would cost twice as much to build, so saving for the church worship building is taking longer with the rise in prices.
Many will recall the volunteer labor in finishing the Fellowship Hall including the many hours of work that Steve Painter's father put in, one of the church's oldest members. Although he was up there in years and with health issues, he loved serving the Lord however he could. His tradition of serving is apparently being carried on in this small town church, and is what makes this annual event a "welcome home" experience.
---