The Hancock-Henderson Quill, Inc.

---
Gladstone Celebrates 81st Homecoming
by: Misty Huston, Quill Reporter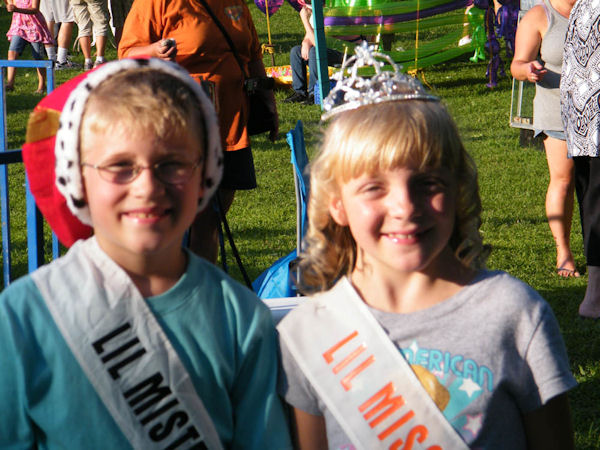 Gladstone was quite a busy place this past weekend as the small town celebrated their 81st Annual Homecoming. The three day event offered a variety of activities for people of all ages to enjoy, including musical entertainment, a prince and princess pageant, a parade, a carnival, a money scramble, a pie baking contest, 50-50 drawings, raffles, and of course, food.
The festivities began on Thursday with musical entertainment provided by "Two of Hearts" featuring "The Hitman" and a carnival including both rides and games.
Friday featured a Prince and Princess pageant for boys and girls ages four to eight.
Nacayla "Nikki" Bole, of Gladstone, was crowned the 2009 Homecoming Princess and Korey Bundy, of Oquawka, was crowned the 2009 Homecoming Prince.
Nikki is the seven year old daughter of Brian and Amy Bole. She will be in the second grade this fall. Korey is the eight year old son of Kevin and Millie Bundy. He will be in the third grade this fall.
There was more musical entertainment provided by Wendy Fountain and Blind Date followed by a street dance with entertainment by the Pay Up Band.
Saturday's main attraction was the parade, with the theme this year being "Shoot For The Stars". There were a variety of entries in the parade including fire trucks, an ambulance, police cars, floats, bicycles, a horse, mini motorcycles and 4-wheelers, cars, the Henderson County Fair Queen, Jr. Miss and Little Miss, the Homecoming Prince and Princess, local political figures, and miscellaneous.
Winners of the parade were as follows: Horse-Brianna Akers; Miscellaneous/Cars-1st place Jacob Keever, 2nd place Tucker Dawson, 3rd place Jamie Bundy; Bikes-1st place Adian Gillette, 2nd place Natalie Gillette, 3rd place Brett Dewitt; Floats-1st place Margaret and Frankie Johnson and family, 2nd place Vannie Keever, 3rd place Deb Anderson.
Following the parade there was a variety of activities in the park for everyone to enjoy throughout the evening. One of the many attractions was a money scramble for kids 12 and under. They had a small wading pool full of shelled corn with money hidden all throughout, buried deep beneath the corn.
The children were given the opportunity to dig through the corn and look for the hidden treasure, being able to keep what they could find.
Another attraction of the evening was the pie baking contest, judged by Janet Lafary and Norman Menzenberg.
The winners of this contest were as follows: Appearance-Linda Marston with her butterscotch pie; Taste-Betty Waterman with her peach pie; and Overall-Edna Keever with her coconut creme pie.
The evening also included a pie throwing booth, where volunteers graciously put their faces through the hole of a big wooden clown form, which read "Got Pie", to be used as the target for people to throw their pie at. This seemed to be a very popular event with a lot of participants and a large crowd watching and cheering when the target was hit.
Other activities of the evening included the dunk tank, drawings, the carnival, musical entertainment by The South 61 Band and a street dance with entertainment by Money Shot.
We can't forget one of the main attractions of this event, and that is all the wonderful food that was available throughout the festivities. The Gladstone Methodist Church sponsored the food tent again this year, serving breakfast and supper all three days.
They offered a variety of delicious homemade dinners, sandwiches, pies and side dishes.
It was a nice weekend for the event and everything seemed to go smoothly with a lot of people participating and enjoying the activities.
Committee members Millie Bundy, Tricia Keever, Lisa Lafary and Brenda Holford are to be commended for all their hard work and dedication in making this event such a success again this year.
---