The Hancock-Henderson Quill, Inc.

---
Meet Your Neighbor
by Misty Huston, Quill Reporter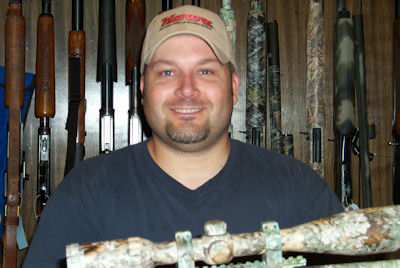 Meet your neighbor, Brett Kennon, who resides in Biggsville with his wife, Shana, of 6 years.
Brett currently works for Legacy Sports International, a company that deals in the importing and exporting of firearms.
He was born and raised in San Bernardino, California. He graduated from Iowa Weselyn College.
In fact, that is where he met Shana, they were both attending classes there.
He said "I never thought I would ever come back to the Midwest after graduation, but I met my wife and things change".
Brett is the son of Brady and Lisa Kennon of West Covina, California and the son-in-law of Bruce and Anita Smith of Biggsville.
He has one daughter, Ava, who is 3 years old and one son, Andrew, who is six months old.
In his spare time he enjoys hunting, going to B & J's Rifle Ranch on Monday and Wednesday evenings from 7-10 and just simply being in the Midwest.
He says, "It's a nice open, quiet area with no traffic and it's a good place to raise my kids".
One of his most memorable life experiences is of moving from a town of 350,000 in California to a town of 350 in the Midwest.
He says, "It was a pretty big adjustment, but I love it and wouldn't trade it for anything. I wouldn't go back to California to live."
---