The Hancock-Henderson Quill, Inc.

---
Travel Far To See 11th Annual Gibb Memorial Show
by Dessa Rodeffer, Quill Publisher/Owner
The rain may have slowed a few from coming out for the 11th Annual Fred Gibb Memorial Open Car Show Saturday, but it didn't dampen the spirits of true car enthusiasts who made the drive to this popular muscle car event.
A special unveiling of a conversion plan for the 2010 Chevrolet to honor Fred Gibb was a highlight Saturday given by a Gibb Show sponsor NICKY¨, out of Chicago.
Nancy Gibb was sporting a black 2010 Camaro that will receive some of the striping and Fred Gibb conversion features by NICKY¨.
Tom Clary did indeed bring his "Red Alert."
He said a gentlemen, Bob Hamilton, was a famous race driver out East who bought the car for his wife as a Valentine's gift.
Clary actually has the video of Hamilton giving it to his wife. She drove it for a year and then Hamilton and his son turned it into a super stock automatic race car in 1971. The AMT model company saw the car and wanted to make a model out of it.
So, they put AMT on the car and it was made into a model in 1972. It was sold two more times and was the top model and sold over 1 million kits of that car.
"Kids remember putting the car together in their youth," Clary said. Finally the Dukes of Hazard model came out and passed the Red Alert in model sales.
Hamilton raced it from "71 to "76 and was very successful. He lived in Long Island, New York and raced it there and then moved to Florida and raced it there a couple years and retired.
It sat in his garage until the early nineties and he sold it.
A couple gentlemen raced it and it was retired again and it has been in two or three private collections until Clary bought it a year and a half ago.
The 1970 LS6 Chevelle is unique in that it is an unrestored car. It is just the way it was raced in 1971. It has its original seats, transmission, rear end, which is pretty unusual.
Clary now shows and races the car, and drives it in nostalgic events.
He says the name of the car came in "71 during the Cold War with Russia. They were looking for a name and the car was red so they came up with "Red Alert".
They wanted something catchy on the back, so the sign painter, a Phil Wilson fan, came up with the words "The devil made me do it!" from the Phil Wilson show that was popular at that time.
Clary is excited about his car. In the Chevelle world it is called the world's most famous Chevelle. It only has 18,000 miles now and Hamilton's wife put around 15,000 miles on it prior to her husband racing it.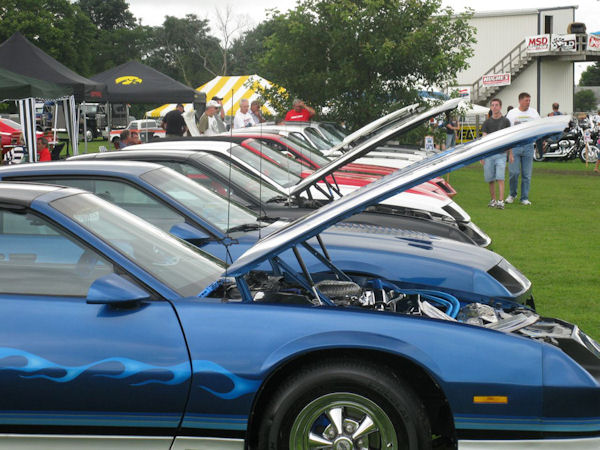 Lines and lines of beautiful and well cared for cars, trucks, motorcycles, even semis were neatly placed across the La Harpe Park District grounds early Saturday morning thanks to the hard working crew who help co-ordinators Ken Brown and Bob Lionberger put together the Annual Fred Gibb Chevrolet Open Show. The event has grown to become the first of three super shows called the Triple Aces. The next is Labor Day at Collinsville, then the Corvette Show Nov. 21-22 in Rosemont.
---