The Hancock-Henderson Quill, Inc.

---
Take The Quill Along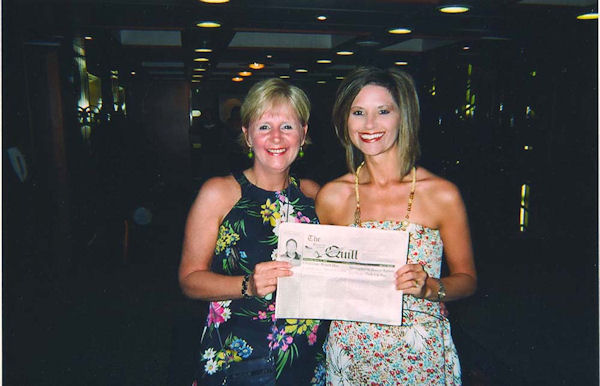 Brenda (Duncan) Parker and Robyn Long, across the Mississippi in Iowa, took The Quill along on a 7 day cruise in the Caribbean. The girls tell how their families are connected with the Ferguson/Duncan family of Stronghurst. They earned the vacation through their work at River Cities Ophthalmology, PC laser surgeons in West Burlington and Keokuk, IA.
It wasn't a three hour tour, but it was 6 islands in 7 days that started in San Juan, Puerto Rico, where they boarded the Caribbean Princess, a 3,100 passenger vessel, Grand Daddy of the Princess fleet, with the largest carrying capacity. The first day was a day at sea, followed by a day in port at Barbados, St. Lucia, Antigua, Tortola and St. Thomas.
When you go on a trip, take "The Quill" along and have your pictured taken with it, then send it to us. Let's see where all "The Quill" can travel.
---