The Hancock-Henderson Quill, Inc.

---
Meet Your Neighbor
by Jenna Clayton, Quill Reporter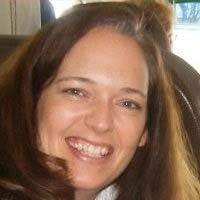 Meet your neighbor Lisa Trout, born in Ft Madison, IA and raised on a farm south of Carthage until she got married and and moved to the La Harpe area.
Trout is the daughter of Karen (Pete) Zeien and Larry Junk.
She was raised with her sisters, Deb and Sherry and her brother, Terry and as an adult added the 3 little sisters she never had when she was younger, Beth Dorothy, Theresa Tierney and Sarah Cline.
She was the baby of her family and raised on a farm 3 miles south of Carthage in a house that was sold and moved to make way for the new four lane highway about five years ago.
They raised crops, hogs and about twenty head of cattle, tended a big garden and small orchard, they also owned/operated the fabric store, Karen's Fabrics.
She helped the family while growing up, as well as working at Bill's Grocery Store and FS during her high school years.
She grew up a Dodger fan but was converted to a Cubs fan by her husband R.D. and his family.
She has three children; (step)son Jamie 24; son Nate 17; and daughter Andrea 16.
Trout graduated from Carthage (then known as Hancock Central HS) in 1987 and went on to attend Carl Sandburg Community College. She is currently the Logistics Analyst and Production Control Scheduler at Methode Electronics in Carthage and also part time bus driver and assistant junior high volleyball coach. Her jobs require auditing freight invoices, assigning freight carriers, and ordering components needed for production.
Trout feels blessed with all of the memories in her life. Not just her wedding day or the birth of children but also her son, Nate's baseball team winning the junior high state title and her daughter, Andrea's volleyball team earning the state runner-up title and all their games and glory of getting to that level.
Also she was randomly chosen to take the field with eight other moms during one of her Mother's Day trips to Wrigley and unknowingly staying in the same hotel as the Dodgers during a series at Wrigley.
Before she was a Cub's fan and got to meet Tommy Lasorda and a majority of the 1985 Dodger team.
Trout greatly enjoys supporting her kids in their activities and sports, traveling, yard work, golf, shopping, fishing, watching baseball, swimming, and the beach.
She also feels very blessed with great parents who have supported her all of her life and grandparents (Phines and Lela Murphy; Russell and Lucille Junk) who all lived to see 90+ and her children getting to hear their stories of changes her grandparents have seen over the years.
Next year her grandpa Murphy (Nuke as they call him) will turn 100, he and her grandma will also celebrate their 80th wedding anniversary next year.
She very much loves the family she has married into. "The Trouts have been wonderful and supportive too and have become more than my in-laws, they have become my friends."
Before meeting her husband, Trout had never been to La Harpe (maybe once to the Hancock Co basketball tournament).
But she has now grown to like living in La Harpe/Disco and is thankful to have settled and raised her kids there. She also appreciates La Harpe for continuing the Summerfest tradition.
Trout believes it is a great thing to do for the community. She hopes to visit Ireland, Italy, and return on visits to Simi Valley CA (where she and her husband were married), Hawaii, and Sea World.
Trout says, "Believe! No matter how bad something seems it could always be worse, there is a plan in place - everything happens for a reason!"
---