The Hancock-Henderson Quill, Inc.

---
Maxine Hilton Shares Her Stories Of Lincoln
by Dessa Rodeffer, Quill Publisher/Owner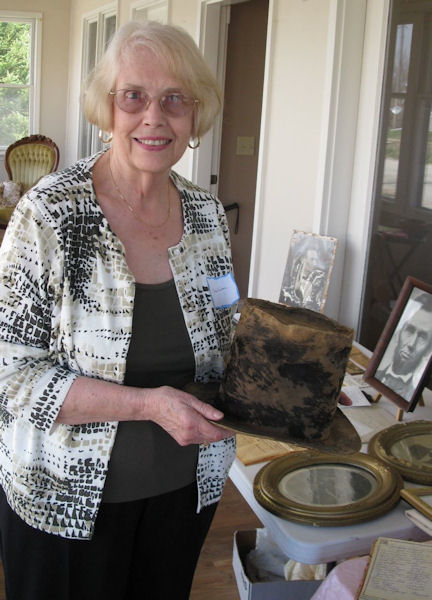 Maxine Hilton of La Harpe was a part of the Henderson County Republican's birthday party celebration.
On April 4th at the historic and newly restored Biggsville Lynn Hotel, a table displayed Civil War memorabilia that Republican women brought to share at the 11:30 a.m. dinner luncheon.
Joyce Louden, President of the Republican Women's Club who hosted the event, read a civil war letter that she had in her possession prior to Hilton's "Stories About Abe".
Maxine briefed the audience on the story of Abe which included his marriage and his children. She said he was a good and kind father as well as being kind to the world. He was a "book worm" and one man said they never saw him without a book.
He was very caring of his family, Maxine said and told how he had worked for three months when he was under 21, and earned $24 which he then gave to help his father when they lived near Decatur.
Abraham Lincoln was, a Representative from Illinois and 16th President of the United States.
He was born in Hardin County, Ky., February 12, 1809 then moved with his parents to a tract on Little Pigeon Creek, Ind., in 1816.
He attended a log-cabin school at short intervals and was self-instructed in elementary branches and then moved with his father to Macon County, Ill., in 1830 and later to Coles County, Ill.
He read the principles of law and works on surveying; during the Black Hawk War he volunteered in a company of Sangamon County Rifles organized April 21, 1832.
He was elected its captain and served until May 27, when the company was mustered out of service; reenlisted as a private and served until mustered out June 16, 1832.
He said the only hostile thing he saw during that time was mosquitos.
Abraham returned to New Salem at age 22, and was unsuccessful as a candidate for the State house of representatives.
Maxine said he was 8 out of 13; entered business as a general merchant in New Salem where his store failed and he was postmaster of New Salem 1833-1836; deputy county surveyor 1834-1836; and then elected as a member of the State house of representatives in 1834, 1836, 1838, and 1840.
Abe declined to be a candidate for renomination; admitted to the bar in 1836; moved to Springfield, Ill., in 1837 and engaged in the practice of law.
He was elected as a Whig to the Thirtieth Congress (March 4, 1847-March 3, 1849); and did not seek a renomination in 1848.
He was an unsuccessful applicant for Commissioner of the General Land Office under President Taylor; tendered the Governorship of Oregon Territory, but declined.
He was an unsuccessful Whig candidate for election to the United States Senate before the legislature of 1855; unsuccessful Republican candidate for the United States Senate in 1858 but went through the famous Lincoln and Douglas debates which brought him to our area before he was elected as a Republican President of the United States in 1860. He was reelected in 1864 and served from March 4, 1861, until his death.
He was shot by an assassin in Washington, D.C., while attending the theater with his wife on April 14, 1865, and died the following day.
He lay in state in the Rotunda of the U.S. Capitol, April 19-21, 1865 and interment in Oak Ridge Cemetery, Springfield, IL.
Maxine disclosed some interesting points such as his belonging to the Debate Society in New Salem, his taking law to make more money than his present $3.00 a day.
It only took 3 years for him to pass the law exam, she said.
It was after he moved to Springfield that he fell in love for the first time. "He lost his head over Mary Todd" who she described as "pleasingly plump and spoiled."
Nine months after their marriage they had their first child Willie, then later Eddie, and then Tad.
She said that his opposition to the war in 1846 nearly cost him the election and she told of the pain they carried from losing a child.
She described his cluttered office and how he stored papers in the lining of his hat.
Lincoln felt strongly about all living free and happy lives with unrestrained and parental type tryanny.
When the Missouri Compromise overturned slavery he hated this and held eleven debates to run for US Senate. More than 10,000 attended each one and as many as 15 thousand stood in the rain at one. The news media came from New York and other large cities to cover them.
Lincoln came to La Harpe, Carthage, and Dallas City.
In La Harpe, she said, they had a big reception but there were demonstrations making fun of him, and a brick was thrown which hit someone and demonstrators left the city and Lincoln's speech went on.
La Harpe didn't vote for Lincoln.
"As I would not be a slave, I would not be a master," Lincoln wrote, and through his many quotes, Lincoln became well known as a legislator and a lawyer.
He lost as Senator but in the Presidental election he won with the vote in the north. The South started receding and war began.
General Lee of the south surrended to General Grant in the north in 1865.
Abraham Lincoln signed the Emancipation Proclamation and Lincoln is credited for uniting the country and ridding our country of the great crime of slavery. He is a role model since.
Maxine also shared some cute stories she had written for school kids who visit her home, about Lincoln's top hat as President Lincoln had once visited the home she now lives in at La Harpe.
In other business of the Republican Women, State Representative Myers spoke to the audience saying they had received 9 billion dollars of incentive moneys and to let him know of important community projects and he will put you in touch with people to help them apply.
He also told how well the Republicans are working together on issues.
Oquawka's Todd Miller of the Illinois State Police is retiring and said he will be running for Sheriff of Henderson County at the next election.
Scholarships that are given to high school graduates and college students were discussed and the agenda for upcoming meetings.
The next Henderson County Republican meeting will be lunch at Carthage Lake club with a vintage Style Show on Saturday, June 6th, just prior to the anniversary of the Big Flood of 2008 - June 17th. The event last year was canceled due to the flooding of Carthage Lake and roads.
---