The Hancock-Henderson Quill, Inc.

---
Meet Your Neighbor
by Susan Galbraith, Quill Reporter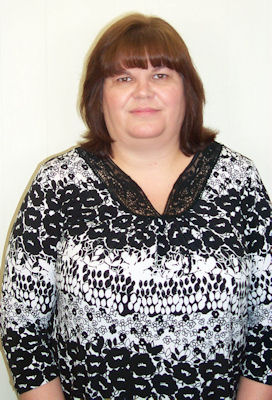 Meet Your Neighbor Tammy Guile of Stronghurst.
Tammy is employed by West Central Community School District #235 as a Health Occupation teacher. She is also Director of Nursing at Continuing Care Center in Monmouth.
Tammy was born in Benton and raised in Moline. She is a graduate of Moline High School, Blackhawk Jr. College (an affiliate of Western Illinois University) and Southeastern Community College in West Burlington, Iowa, where she received her associate degree in nursing.
She is also a certified Alzheimers and CPR instructor.
Her hubby, Robert, of 30 years, is retired after working at Case-New Holland in Burlington, Iowa.
Tammy says, "Robert stays home and does all the cleaning, laundry, cooking and whatever else needs done. In fact, he is better at it than I am!"
They have three sons and one daughter:
Shane, with wife Jeanette, lives in Matherville. Shane is employed at Erickson's Plumbing in Moline and Jeanette is a hair dresser;
Jason lives in Matherville and works at Erickson's;
David with wife Kelsey, lives in Biggsville. David is a surgical nurse at Great River Medical Center in West Burlington, Iowa, and also at OFS in Peoria. Kelsey is a dental hygienist in Stronghurst;
Their only daughter, Robin, is a student at Southeastern Community College in Burlington, Iowa, working toward a nursing degree. She is engaged to Ross Bigger and they have plans to be married in the fall of 2010.
She and Robert have 4 grandchildren. Taylor (11), Austin (9), Kaylee (12) and Keegan (4).
Her mother, Mary Zumaris lives in Milan and her father, Dave, lives in East Moline.
Tammy has two brothers, Gordon who lives in Cambridge and Richard of Moline; one sister, Barb (Dave) Strubee in Davenport, Iowa.
In her spare time she loves to scrapbook and has finished 20 albums. She and Robin are also directors of the Henderson County Fair Queen Pageant.
They are members of the Bethel Lutheran Church in Stronghurst.
A year ago the entire family went on a special vacation to Branson, Missouri. Tammy said, "We enjoy spending time together as a family."
---