The Hancock-Henderson Quill, Inc.

---
Treasure in the Heartland
by D. B. Conard
Brian's Song
At first glance, when you see the picture of the three men leaning against the fence, it means nothing.
You can't see their faces, but you can almost read their minds when you start to understand what this night must mean to them.
Father, son and friend, side by side, each filled with emotion, memories, and purpose, looking through the wire at a dirt oval race track that had become a major part of each of their lives.
It is Friday night at the 34 Raceway, the first races for points of the sprint racing season. In addition, this night is a night dedicated to the memory of a son, brother, friend, neighbor, and competitor.
Brian Hetrick, one of those rare bright lights who touched the lives of so many in the community, had been lost in a tragic motorcycle accident.
I didn't know Brian and had been literally on an island when the accident occurred, so I knew nothing until Friday at the Raceway.
What surprised me was the celebration that resulted from the life he lived.
Without exception, just the way in which people described Brian was uniquely simple. Yet, those descriptions were a wonderful testament and tribute to a life lived more fully than others with an extra 60 years.
It was a clear, cool evening, turning to dark, as the time trials were finishing. The atmosphere was like walking around in a movie. Everything was right out of a Norman Rockwell painting.
That night in the pits, I found race cars and crews that were on a par with the best of anything you might find anywhere else.
The cars were works of art that looked like they would jump when you squeezed them. The high sweet revs of well-tuned and balanced engines filled the air. Everything was just a little brighter than normal. Everyone was having a good time.
I don't want to seem sappy, but like the movie "Field Of Dreams", we had our track of dreams.
Hollywood could not have scripted a better night on the track. We saw great racing of the 360 Sprint Invaders and then the 305s as Jared Schneiderman tried to fly his #88 car. It hit the wall flipping end over end with no one hurt on the landing in front of the main grandstand crowd.
Then, to top it all off, Kevin Hetrick, (Brian's younger brother) in his #23 car, pulled ahead in the eighth lap to do the "Dew" for twelve more laps to pull off his first Sprint feature win, the night of his brother's first memorial race! The crowd went wild and Kevin was ecstatic as he jumped out of his car onto one of his Sprint car tires and shouted a "yahoo!" to the crowd!
"It don't get no gooder-do it!"
The greatest treasure of the evening was Brian and Kevin's mom. If I could describe the way she glowed, I could win a Pulitzer!
The three men in the photograph who lined up against the fence will be doing the same thing for a long time to come.
In the memory of fans, perhaps Brian and his #35 car were once again on the track. However, this time, his spirit was on his brother's shoulder, Kevin.
Brian's father, his brother, and his mentor and sponsor won a purse greater than money when Kevin won his first feature Sprint car win Friday night. It would be the memory of the "magic" at the 34 Raceway that they can re-live again and again.
The good thing is that they shared it with all of us, and especially with Brian's mom. Perhaps, it will be a night remembered as "Brian's Song."
It will be one we'll play over and over.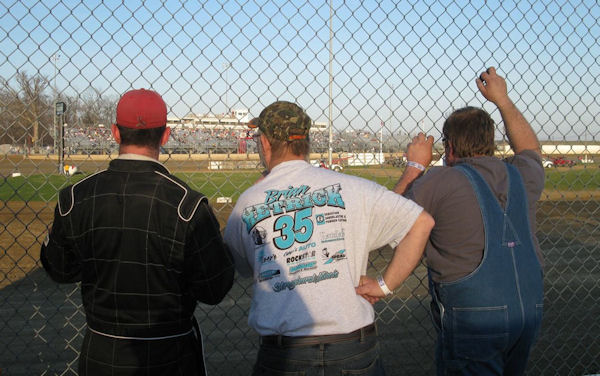 Bitter Sweet Memories at the Brian Hetrick Memorial Race Friday night as brother Kevin, father Jim, and sponsor Byron Sebastian all of Gladstone, study the spots in the race track at 34 Raceway before Kevin's time trials of the first annual Brian Hetrick Memorial Race Friday night west of Burlington, Iowa. (photo by Dessa Rodeffer/The Quill)
---