The Hancock-Henderson Quill, Inc.

---
The Heat's Ashley Coffey, Taking Her Basketball To Quincy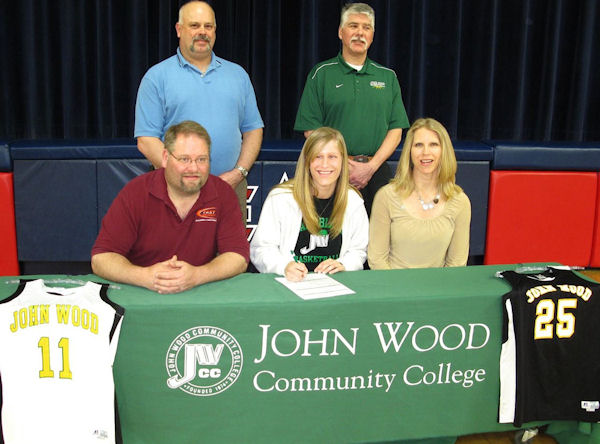 Biggsville: Another one of West Central's top athletes has signed her letter of intent to play college basketball.
All-state player Ashley Coffey of Carman, a 5'10" senior forward is moving her basketball career to John Wood Community College in Quincy.
With her parents (Merle and Susan), West Central's Athletic Director (Jay Blender), and her grandparents and several of her high school supporters looking on, Ashley committed to play NJCAA Division II College basketball for the successful Coach Norman Rodriguez and his Lady Trail Blazers.
The Trail Blazers are a member of the Mid-West Athletic Conference, and NJCAA Region 24, "arguably the best Division II Conference and Region in the United States."
Ashley said she was very excited about playing college basketball at John Wood with the Trail Blazers, and her pursuit of a career in the health field.
"Right now, I'm thinking about X-Ray Technician," she said.
Ashley said that academics is the number one thing, and she took a week off her senior year to narrow all her choices down.
"I again narrowed them to between John Wood, and Carl Sandburg (Galesburg). It was tough!" she said. "I really like both of the coaches and both of the facilities."
But she has made her choice of John Wood and already has been playing basketball with the girls on Thursdays and Sundays and having lots of fun.
She said, "You go to college for one thing, and that is an education. It is true. Basketball is down the line."
The coaching staff will see that their girls are successful in the classroom as well, and that they get any help they might need due to their many hours on the road, practicing and playing, and they will have study groups.
Ashley said her parents were very proud and she is so thankful for them.
"They have helped me through everything and I couldn't do half the things I have done without them. I just thank them for everything they've done to help me."
Ashley's mom said she feels very good, "I'm very proud of her, she's had a wonderful year this year."
Ashley has played basketball since third grade starting at the "Y" in Burlington, Iowa and "has so many trophies " from over the years," her mom said.
Then in Junior High they started doing the Spring tournaments, then played weekends.
She did four sports in Jr. High: softball, basketball, volleyball, and track, but in high school she narrowed it to softball and basketball.
This year she is focusing on basketball due to open gym and her commitment to JWCC. She signed up during the summer with a personal trainer at the hospital for weight strengthening, saying it has made her so much stronger.
Her mother said, "That helped her sooo much. You can see how much stronger her upper arms have gotten."
Ashley said that she figured that out at Open Gym on Sunday, "How much stronger you have to be."
She figures she will be devoting five to six days a week to basketball once her college starts.
Her parents plan on going to most of her games juggling their time with her younger brother who is beginning sixth grade sports at West Central.
Ashley also has had the support of her grandparents (Merle and Doris Coffey).
They usually go to Texas, but this season they stayed in Illinois and watched her play basketball.
"They came to every game and supported me as well," Ashley said.
Coach Rodriguez came from Quincy and witnessed Coffey's signing, making her the fifth all-state player to commit with him.
Three seniors from the West Hancock Titans also signed earlier - Kelsey Miller and Halie Schilson, and Lindsey Buckert, an all stater who led her team in two final four seasons.
Also, Danielle Gronewold of Illini West, another All-State player, will join her sister All-Stater 5'11" Forward Randi Gronewold and 5'11" Guard/Forward Carlie Wear of La Harpe at John Wood as well.
Coach Rodriguez just finished his 15th year at John Wood, ten seasons as head coach and guided the Lady Blazers to a 20-13 record and compiled a 189-101 slate as the winningest coach in school history.
He is getting a gem to add to his team with Ashley Coffey to face his 8 teams in his conference, 10 in his region which includes: Lincoln Land/Springfield, Lincoln/Lincoln, Lewis & Clark/Godfrey, Danville/Danville, Parkland/Champaign, Spoon River/Canton, Kankakee/Kankakee, Shawnee in Ullin (5 1/2 hours to southern Illinois), plus two more teams in their Region-ICC in Peoria and Lakeland in Mattoon.
Whoever wins the Region goes on to National played for its third year in Peoria.
Coach is hopeful Phoenix will get the National Tournament bid for the next three years allowing them to once again play in Arizona.
"We are going to use Ashley out on the perimeter :mostly on the wing facing the basket not ever playing her back to the basket at all."
Coach Rodriguez sticks with local kids and recruits from the local area. They need to have the opportunity to know what they can really do," he said.
"I am a small town kid from close to Quincy, anyway, and I feel that too often kids are over-looked just because they are from a small town..
Rodriguez also says the pluses for attending John Wood Community College is it is a new school, with a series of state-of-the art buildings. One series of buildings opened in 2002, another in 2004, and a new gym in 2006. Every classroom is a "Smart" classroom wired for everything possible - overhead projectors, computer, DVD, VCR and you can do conference calls, video phones, and you can skype.
"They did a very good job of planning and looking ahead when they built the buildings," he said, "and our Division II Conference is probably the best in the United States. Athletes will very much be looked at."
The Trail Blazer's season begins the first Saturday of November when they host a shoot-out on the 7th and 8th, then play the first games Friday and Sunday. Their last regular season game is February 27th before going into tournament action.
Rodriguez has three assistants including a strength and conditioning coach, but it is actually Rodriguez who will give his girls a list of foods that are good to eat and those not good to eat as part of his coaching.
Ashley is the 4th recruit from her Senior Class to be recruited which says a lot about West Central students.
---