The Hancock-Henderson Quill, Inc.

---
Wrestling Mania:
Jim Clayton, Quill Reporter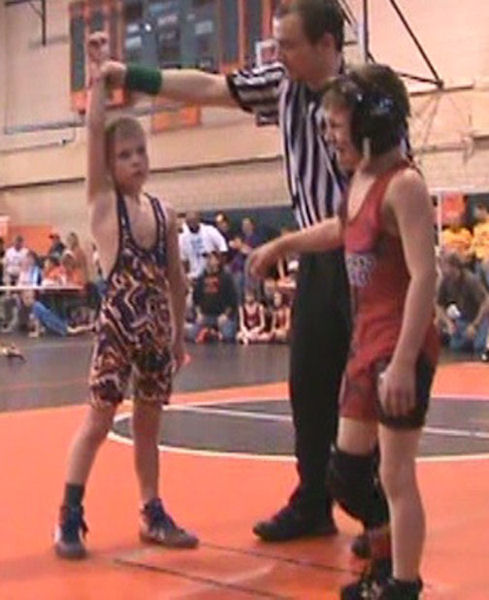 The first thing most people think of when they hear wrestling is loud music, athletes that look more like body builders, and chairs being used as weapons in the ring.
The next thing that comes to mind for many is the movie, Nacho Libre, where Jack Black portrays a Mexican monk who becomes a professional wrestler, known as a luchador.
Both World Wrestling Entertainment, who just celebrated the 25th anniversary of their most well known event Wresltemania, and the movie Nacho Libre are very entertaining and involve as much acting as they do actual athletic.
But when "real' wrestling gets mentioned most people outside the state of Iowa (where wrestling is king and the University of Iowa is the current NCAA D1 champions) don't really know much about it.
Well, it would only take a short drive to witness some in Hancock County.
For the last three years the Carthage Wrestling Club has been giving boys between the ages of 4 and 14 a chance to learn the lessons of the mat.
La Harpe resident Ross Lord, an Iowa native, got his son Michael involved last year.
"We meet at the "Y" (YMCA) in Carthage and travel all over the place for meets, from Keokuk, Iowa to Burlington, Iowa.
"It has been really well received and we would really like to see more La Harpe kids become involved," said Lord.
Lord's son only began wrestling last year and has really taken to the sport. "He wrestled 36 times last season and was 30 and 6, and two of his losses were to the boy that is the Iowa State champion for that age group" added Lord.
The style of wrestling that is practiced at the club is commonly referred to as folkstyle wrestling or sometimes as scholastic wrestling because it is what is commonly used at the high school and college levels.
It is not the same as the Olympic style of wrestling which is typically Roman Greco where the combatants are not allowed to use their legs. Folkstyle wrestlers are often called grapplers.
Lord sings high praise of the program coached by John Wilde and Frank Hanks and really believes it can do a lot more than teach the young men another sport.
"You can see it build confidence and a positive attitude just by the way the kids carry themselves."
The season lasts from November to February and this last season the team travelled to 12 different meets where each wrestler could compete in up to four matches.
"This is a good place for our local boys to come and find out if they have an interest in this sport. If they do, then there are schools and camps they can attend the same as a basketball or football player," continued Lord.
Wrestling is one of the oldest sports known to man.
It is believed to have originated in China over 4,000 years ago, and in Egypt and Rome nearly as long, and it may have been much longer ago than that Jacob wrestled with an angel in the 32nd chapter of the book of Genesis.
Whatever the origins and whatever the format you think of when you hear the word, wrestling, remember, there is a 55 pound third grader named Michael Lord, who would love to have the opportunity to show you the proper way to do a takedown.
---