The Hancock-Henderson Quill, Inc.

---
Prom, A Mardi Gras They Will Remember
Illini West held their prom on Saturday, March 28, 2009.
The high school gym was the setting for the 4:00 p.m. promenade and was beautifully decorated with a Mardi Gras theme featuring a gold, green, and purple balloon arch on the stage.
Balloons and streamers covered the floor and large Mardi Gras masks adorned the fern filled planters where they couples posed for photographs.
Following the promenade, which was emceed by Rob Dunham, the 2009 Prom Court was announced and the king and queen were crowned.
King and Queen were Ross Hutson, son of John and Sandy Hutson of Dallas City, and Hannah Fox, daughter of Brian Fox and Christy Fox of La Harpe.
First attendants were Shane Painter, son of Steve and Diane Painter of Terre Haute, and Erica Eddington, daughter of Dean Eddington and Jodelle Eddington of La Harpe.
Second attendants were Kyle Hartzell, son of Tom and Pam Hartzell of Carthage, and Kourtni Reed, daughter of Steve and Debbie Reed of La Harpe.
Third attendants were Trey Roberts, son of Selina Furrow and Ken Roberts of La Harpe, and Shannon Hamer, daughter of Doug and Wendy Hamer of Carthage.
The prom was held in the grand ballroom at Western Illinois University at 8:00 p.m. with the coronation at 10:00 p.m. followed by the royalty dance and snake dance.
After the prom, everyone gathered at the YMCA where the guests enjoyed swimming, games and a hypnotist.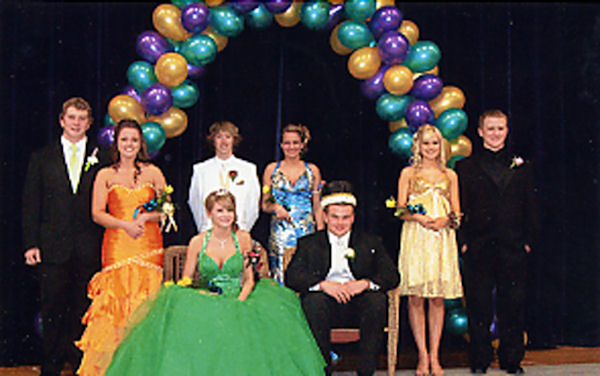 Seated King Ross Hutson and Queen Hannah Fox with their court: l-r: Attendants - Kyle Hartzell, Kourtni Reed, Shane Painter, Erica Eddington, Shannon Hamer, Trey Roberts
---