The Hancock-Henderson Quill, Inc.

---
Meet Your Neighbor
by Susan Galbraith, Quill Reporter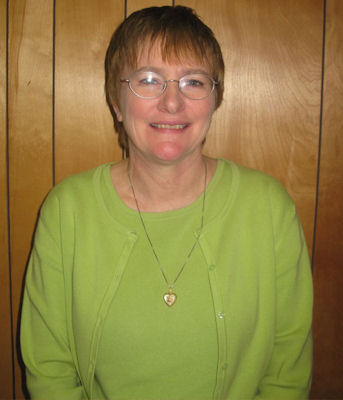 Meet Your Neighbor Sally Waddell of Stronghurst.
Sally is an ISR (Investment Solutions Representative) and insurance agent for Country Finance, formerly Country Companies in Stronghurst. She will have been with the company 6 years in June.
She was born in La Harpe and raised in the Stronghurst area.
In 1974 Sally graduated from Southern High School and received and furthered her education by receiving an accounting degree from Midstate College in Peoria.
She has taken many securities and insurance classes to obtain licenses for Country Financial.
Sally and husband, Monty, are celebrating their 33rd anniversary in August.
Sally and Monty are the proud parents of two daughters, Kerri, (25) is married to Phil Hart. Kerri is a registered nurse at the Mayo Clinic Cardiovascular Intensive Care Unit in Columbia, Missouri. Phil is in his second year of residency in internal medicine, at the Mayo Clinic. Kim, (22) is in graduate school at the University of North Carolina, at Chapelville, and studying to be an occupational therapist.
Sally's mother, Henrietta Palmer, resides in Stronghurst and her father, Ed, is deceased.
She has two sisters, Susan (Lyman) Schar that lives in Monmouth. Susan is employed part-time at the Monmouth-Roseville school district as a speech therapist and Lyman is a retired principal. They have two children, Ben and Megan Grandone; and a sister, Sandra (Brad) Harlacher who lives in West Burlington, Iowa. Sandra is employed by the City of Burlington and Brad is a nuclear technician at Great River Medical Center in West Burlington, Iowa. They have to sons, Jered and Wesley.
When she and Monty have any spare time they enjoy traveling to visit their children.
Sally has been a Sunday school teacher, in the nursery for 0-4 year olds, for 25 years at the Stronghurst Christian Church. She started teaching when Kerri was in that class.
She is co-leader of the Stronghurst Hustlers 4-H group which has approximately 40 kids. She has enjoyed being a leader since her girls were in 4-H.
Sally remembers a special vacation in 1996, when the girls were small, they went to Disney World and made many fun memories.
---