The Hancock-Henderson Quill, Inc.

---
Welcome #18, Judah Michael
by Dessa Rodeffer, Quill Publisher/Owner
November 12, 2008
As a grandmother, I have braggin' rights. Although I haven't met my 18th grandchild, a boy, I know he is about the cutest thing under the sun (or should I say under the clouds). He was born November 3rd, 2008, weighs 7 lbs. 1 oz. and is 20 inches, born to Dan and Darci Ericson of Eaton, Colorado
This makes six children for them, four, as you can see are pretty close. I am excited to spend Thanksgiving in Colorado holding the baby, and helping with cooking duties.
Being a grandmother is just about the best thing there is. It is so much fun to hear these giggly kids and to hear the comments they make. And their questions can really make you think.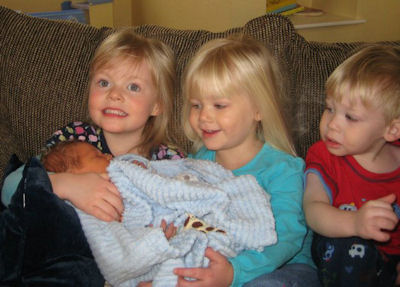 Pictured is Gracie, 4, Lydia, 3, Levi, 1-1/2 with little Judah, yes another blond.
The hardest part is 16 of the 18 grandchildren live away. Visiting is a must! It is just important to see them often enough so that you aren't a stranger. That's hard with 18 and you still work.
---