The Hancock-Henderson Quill, Inc.

---
I Almost Won, Oscar Was The Wiener!
by Dessa Rodeffer - Quill Publisher/Owner
May 21, 2009
Sunday afternoon, I decided to attend Community Day at the Burlington Bees baseball game. Two of Sara Evans' 4-H girls had sold me two $2.00 tickets and said, if I attended the game, I could win an extra grand!
Well, I thought I would be pretty upset if I heard they had drawn my name and I wasn't there.
At least, I thought I could enjoy a wonderful game of baseball at the beautifully refurbished park and take a photo of the actual winner.
It was a beautiful day and as I settled in with the packed crowd right up from home plate and under the safety net, Cosmo from KBUR 107.3 started talking about the Iowa State Bank Disney giveaway that would first be drawn for. Out of 32,000 tickets they would draw fifteen names. For this particular drawing, you had to be there to win. When they called out the winners, one was Teresa Rodeffer.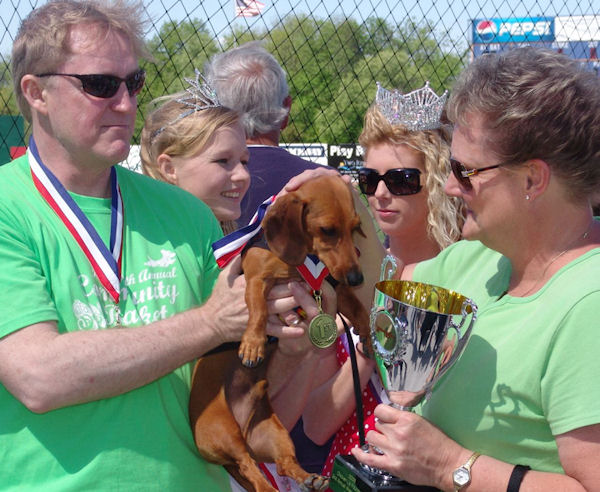 I sat there for a little bit, and then wondered who Teresa Rodeffer was. I know most of the Rodeffers but didn't remember a Teresa. Maybe it was my name and they didn't know how to pronounce it. I better check this out, I thought.
After checking with Cosmo, I found they had indeed blotched up my name and it was Dessa who had won!
After registering at the Iowa State Bank tent and waiting on top the dug out until after the 4th ending, I found nine of us were there for the drawing. I had the first pick of the envelopes and opened a "SORRY" but the third lady, a grandmother, won the trip for four to Disney World. She was elated and about 5 grandkids popped up shouting "Grandma, Grandma!" Well, she will have a decision to make on who to take with her and I am sure she is going to be pampered by each of them a lot." I didn't win, but I enjoyed the day, and watching a full crowd enjoying themselves as well.
The 3rd annual Chicken Lips wiener dog race was a stitch and "Oscar" ran the race like lightening before other wiener dogs hardly got off to a start. He got a medal "You're A Wiener!" and a trophy. A young kid won the $1,000 give away which was handed to his dad, and a grandmother named "Dottie" showed up in time to claim the grand prize.
Still, the Chicago hot dogs, and the game of baseball were the best event of the day, win or lose. Bees lost 3-1.
---