The Hancock-Henderson Quill, Inc.

---
West Central Heat Falls On Homecoming Night 14-45
Biggsville: Last Friday night the West Central Heat football team were soundly beaten by the Annawan-Wethersfield Titans.
The Titans scored two touchdowns in the first quarter for a 13-0 lead
In the second quarter the Heat would get on the board with a safety as line-backer Ryan Mowder sacked the Titan quarterback in the end zone.
After the safety, the Titans had to punt to the Heat. On this possession the Heat's sophomore quarterback Dylan Bell passed to Dalton Johnson for a 55 yard touchdown. That enthused the Homecoming crowd bringing the score to 13-8.
The Titan would strike back quick for a 6 yard rushing touchdown to stretch the lead to 20-8. With 15 seconds left in the half the Titan scored on a long pass play to up the score to 27-8.
The Titans would score two more times in the 3rd quarter and once more in the 4th quarter for a 45-8 lead.
West Central's Jacob Waterman would score in the 4th quarter for a final score of 45-14.
The Titans workhorse running back, JD Draminski, ran 22 time for 154 yards.
The Titans quarterback Sean Walker, passed 12 times, completing 10 for 190 yards. As a team, they rushed for a total of 250 yards.
The Heat's running back, Jacob Waterman carried 19 times for 74 yards and Ryan Mowder carried 10 times for 42 yards.
Quarterback Dylan Bell threw 12 times completing five for 79 yards.
Next Friday, September 26, the Heat travels to Galva for a 7 p.m. game.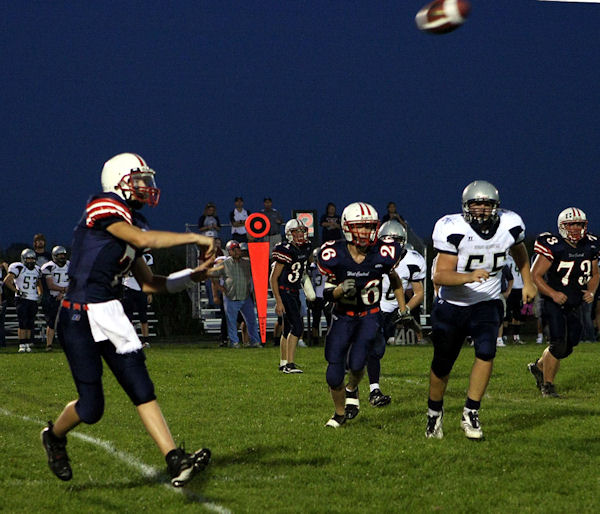 Quarterback, Dylan Bell, Sophomore, passing to a Heat receiver.
---