The Hancock-Henderson Quill, Inc.

---
Richard Reid Family's Loss, Benefits Others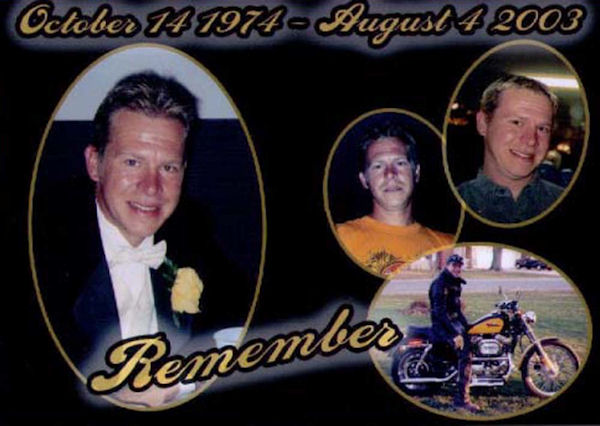 Biggsville: In the 5th Annual Richard Cameron Reid (Rick) benefit, $1100 was raised and given to Julie Hetrick, the widow of Brian Hetrick in his memory.
Both young men were in their late twenties when their vibrant lives were taken in tragic accidents.
Rick Reid's sister Julie Reid Hopkins said of her brother, "He was so full of life! He was busy all the time with his job with A Title Escrow and playing bass in his band MoneyShot, riding his "Harley" with friends, spending time with his great nephew Conner, his dog Tyson always by his side and he loved golfing with his dad and nephew Tyler.
"Rick never spent much time alone, he had a lot of friends and no time to just sit.
Like Brian Hetrick's family, Julie said, "It was tragic the night we got the call that there had been an accident.
"Like everyone I suppose my family was in shock and disbelief like most are after that kind of thing."
On August 4, 2003 Rick was killed in a car accident on his way home after playing in his band Money Shot.
He was only 28 at the time of his death and was loved by so many.
"After his death," Julie said, "our family wanted to do something to keep his memory alive. So, we decided that since he played in a band himself we would have his band MoneyShot and a few others play for us for a benefit to raise money for something to dedicate in his name.
"We have had so many people donate things to help us out," Julie said.
Budweiser in Burlington, IA made up fliers to advertise every year and they always make a special banner to hang the day of the event with all kinds of "great pictures of Rick and his friends."
"Sudden Impact has donated a large tanning package for the past two years, Kitchen Cooked chips always donates 1 case of chips for us, Gibbs Gas Station usually donates ice and such things we might need at last minute, the bands donate all of their time to us, and so many friends help out during the day to help it be a huge success for us.
"We are so thankful to have such great friends of Rick's help us on that special day we like to think of as a day of Remembrance of him."
The first two years the Reid family held the event in Oquawka at the band shelter because Biggsville did not have a park for such things.
The first year they purchased the ground where the Reid Park sits now and their family and many friends helped build the shelter house and pour the basketball courts that are there.
The second year, the Reid Benefit raised money for some playground equipment for kids, and the 3rd year Julie's grandfather built a men and women's bathroom at the park.
By the time the 4th year came around Julie said they pretty much had everything that they needed for the park.
"It's a beautiful park and my family is so very proud of it.
So, the 4th year, Julie was told of a family that the Reids knew who were going through cancer and all the horrible things that come with that. So, they raised money to give to this family in Rick's memory.
"This year, our 5th year of doing this, was once again a great turn out.
We had a great line up of bands, to kick off the day at 2:00 p.m.
There was a band from Burlington, IA called Proposition 69, then followed by a popular band in the area Dirty Bob.
We had some very special music by Tara Davis, Headfirst got up and played some and the final band to end the night like they have for the past five years was Rick's old band MoneyShot!!!!Ê A huge local Favorite Band!!!
Julie said, "This year we wasn't sure what or who we were going to raise money for so up until a couple weeks before the event we thought about just not raising money for anything: then tragically Brian Hetrick was killed in a motorcycle accident.
"He is well known in the area, much like Rick was so we thought the best thing for our family to do was to raise money for his widow to help with any expenses she might have now because of her loss."
"We know the kind of loss the Hetrick family is going through right now and all the unexpected expenses that come along with a loss, so we just wanted to help out."
The Reid families made Maidrites and had a donation can set up by them and everyone was so generous, they raised $370 in food alone.
Over $500 in 50/50 tickets were sold and Julie's boss at Rheinschmidts Tile & Marble donated $200 to the cause.
"We were very thankful to all that came out that day and enjoyed the music and was so kind to donate money for Brian Hetrick's family."
Julie said the family is not sure if they will continue with the Reid Benefit. Their original goal was to do it strong for 5 years and they have accomplished that.
"However," Julie said. "It has been such a great turn out and people love to hear the live music and have a fun day with their families: and that is why we built the park, but we will just have to see."
"We really appreciated Brian's parents Jim and Joyce and his brother Kevin coming out to enjoy the day with our family. They were very thankful of our gesture to raise money for their son/brother."
---