The Hancock-Henderson Quill, Inc.

---
Republicans At Henderson County Family Picnic In Delabar Park
The Henderson County Republicans held their 1st annual family picnic this year in lieu of their usual fish fry.
The picnic was held this last Sunday at Delabar State park and lasted from 11 a.m. to 2 p.m. with speakers at noon.
The main speaker, Demetri Demonte is the chairperson for the Republican women in Illinois; other speakers included Attorney Jim Standard for Circuit Judge, States Attorney Ray Cavanaugh, and Regional Superintendent of Schools Jodi Scott.
Jodi joined the Regional office of education in 2000 after her stay with Union school working as a teacher in early childhood programs.
In 2000 she became the educational consultant for seven counties.
She worked with the local schools in school improvement and professional development.
She then became the assistant regional superintendent in 2004 and the regional superintendent in 2007.
Jodi stated having worked all of those positions you could not find a Regional superintendent that would know the office better.
During her stay with the Regional office of education she has written many grants and initiated a number of new programs.
She has brought in around 4 million dollars worth of grant funds that would have not otherwise been in the region.
Jodi has also made possible a number of programs by coordinating our region's schools and allowing them opportunities to work together to provide programs that they may not be able to offer on their own due to size.
Jodi has allowed for opportunities for schools to coordinate and offer programs including Incoming Freshman Academy, ACT preparation, Summer Dual Credit Course work and a number of Early Childhood Programs.
Jodi thanked her family for their support and introduced her mother and father, husband, Tony, and two daughters and her mother and father in-law.
Judge David Vancil, Jr. resident Judge for Henderson County came later, due to a death in his family. He is running for retention for the first time on the November ballot.
The forecast for the day was to be rainy and windy. At 10:45 in the morning Republicans got a lucky break and the rain finally stopped.
The menu included slow cooked pork (cooked overnight for 15 hours) cheesy potatoes, baked beans, applesauce and a roll with tea, lemonade, water or coffee.
Gullberg had converted a 600 gallon dairy stainless steel milk cooling tank into a smoker for use for his family weddings and gatherings.
Several of his family members spent the entire night Saturday, smoking four donated hogs for the Republican picnic.
Helping through most of the process was Karl Gullberg, Ross Gullberg, their dad Kim Gullberg, Kevin Box, Jon Riley, Wendell Booton and Jeff Stanton.
The Republican Women's Club held a bake sale and raised nearly $200 to help in supporting their candidates and events.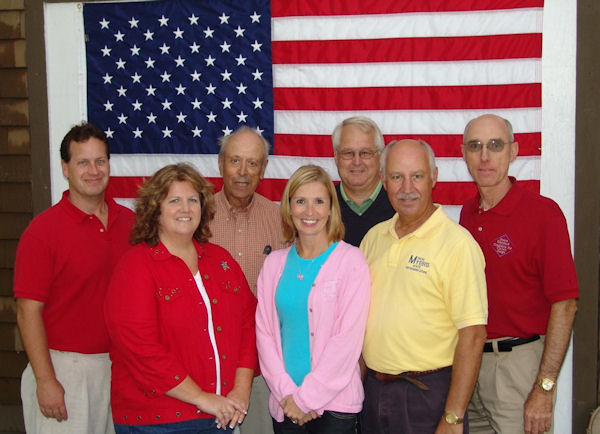 Kim Gullberg of Stronghurst (left), Stronghurst Republican Precinct Committeeman, hands Circuit Judge David Vancil, Jr., the last package of left-over smoked pork from Sunday's 46th September gathering for Republicans at the Delabar State Park near Oquawka.
Despite the 8 inches of rain that fell this past weekend, trailing the aftermath of Hurricane Ike from the Gulf up through the Midwest, Repubicans gathered nearly 250 for their first change of menu.
---