The Hancock-Henderson Quill, Inc.

---
Ludington Instrumental In 2008 NKC World Hunt To Area
A new first time event will be in Stronghurst the weekend of Heritage Trails, thanks to the efforts of Ron Ludington, Sr. of Stronghurst. It is the 2008 NKC World "Coon" Hunt, to be held September 24, 25, 26, and 27 with registration, camping, and vendors at the south end of Stronghurst at the Henderson County Fairgrounds along Highway 94
It is hosted by the Mississippi Valley Coon hunters Association assisted by the Hancock County and Knox County CHA.
Ludington has been planning the event since January, filling out application papers. He said Henderson County is in an area of the United States where it is rare to find a "Coon Championship and the club had been wanting to have one in the Midwest. Most big hunts are down South, he said.
Ludington was told to expect 100 to 130 people, but there could be more.
Several in the area who don't usually go because of the distance, say they will come to this one.
Ludington had driven 19 hours in February to attend one in South Carolina where he and his son competed.
He has been coon hunting 12-14 years now and became interested after his assignment at Southern Middle School was to read, "Where The Red Fern Grows." The movie is still his favorite, he said.
Ron said he talked until he found someone with a coon hound.
"Ten years ago a buddy moved up from Kentucky. He stopped me and asked if I could find him some new hunting places and if I did, he would give me one of his pups. He agreed and got his first coon dog, a "Walker", and named him Gabriel. After six years, he earned "Nite Champion."
But Gabriel got caught getting out of his kennel one night and died, then he went six months without a dog.
Ludington said he was guiding for people and finally purchased another Walker named "Buck" 3 1/2 years ago in Montrose, Iowa.
He has proven to be a great coon dog and he won Grand Show Champion in Abingdon, and AKC Nite Champion in South Carolina with him.
"I am just two hunt wins from being a Grand Champion UKC which is the premiere in hunts and as high as you can go," Ron said.
"I get a thrill listening to the dogs and a kick out of taking my son, 10, who loves to hunt, too.
He has gone hunting since he was 6 months old. I carried him in one arm. He has his own dog and if you look him up, he'll tell you some stories.
Ludington's wife, Leslie has a Plott female "Little Bit" she is going to train and join in the hunt. He also has Alexsis, 7, Dakota, 5, and Jordan-3 who help show with dad.
Ludington said coon hounds will climb trees and he has had to go up a tree to get his dog down. He has had as many as 9 coons in a tree.
Ludington hopes people take part or comes out. It is an opportunity to learn about what goes on at a big hunt, which is rare in our area.
There should be a lot of extra people in town, camping at the fairgrounds or staying in nearby hotels. Wives and kids will be running the food building and there will be other vendors.
The hunting goes on after dark, and it is illegal to shoot coons during a competition.
As far as the price of coon hide, he said last year $21 was the top price but he has been told the hide will average $35 this year due to the empty warehouses in Canada and New York.
Wednesday 09-24-2008
Deadline 2:00 p.m. to be signed up for NKC World Hunt: $100 entry fee. Hunting judges. Cast winners with plus points on Wednesday will advance to Friday night. Dogs may be NKC registered on the grounds and must be, by hunt deadline, to hunt.
Thursday 09-25-2008
Re-entry for non cast winners. Deadline 3:00 p.m. $50.00 re-entry. Must have hunted Wednesday night for re-entry. Hunting judges. Cast winners with plus points will advance to Friday night.
Friday 09-26-2008
Cast winners with plus points from Wednesday and Thursday drawn out.
Check in time deadline 4:00 p.m. Might half to run two rounds on Friday to get down to the Top Ten. Top four scores advance to final four on Saturday. Cast winners must have plus points.
Saturday 09-27-2008
The final four check in deadline 6:00 p.m. A world champion will be crowned. Top breed winners get awards. Prizes Top Ten will get awards. Final four and world champion get nice awards and several nice prizes.
2008 NKC World Show:
The 2008 NKC World Show Saturday 09-27-2008 Deadline 12:00 p.m. $20 entry (dogs must be NKC registered and can register dogs on grounds)
2008 NKC World Treeing Contest:
The 2008 NKC World Treeing Contest Saturday 09-27-2008 Deadline 3:00 p.m. $15 entry (dogs must be NKC Registered and can resister dogs on grounds)
KNC Youth Hunt
Saturday 0-27-2008
Deadline 6:00 p.m. $10. entry (Top Ten awarded.)
Ludington said the purpose of a hunt is to turn your dogs loose, then "strike your dog" onto a trail. Once they've done that, you wait until they tree a coon. They have to be on the tree for 5 minutes before you can shine the tree with your light. Then you have 10 minutes to spot the coon. The hound that strikes first, tree's first and hunter that spot's first are awarded points. The more coons they can find the better in the 2 hour limit.
There are prizes and trophies but the honor is being 2008 NKC World Hunt Champion. Vendors or campers please contact Ron Ludington Sr. (309) 337-4511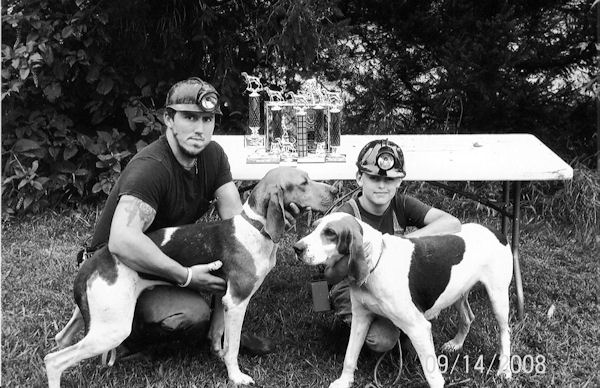 Ron Ludington Sr. and his Walker "Buck" with 10 year old son Ron Jr. with Walker "Scooter"
---