The Hancock-Henderson Quill, Inc.

---
Meet Your Neighbor
By Susan Galbraith, Quill Staff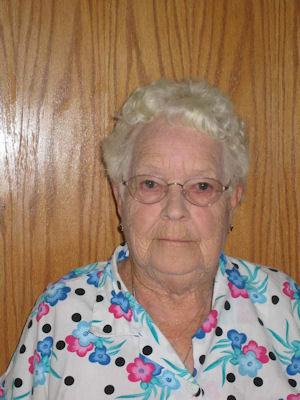 Meet your neighbor Thelma Larkins of rural Oquawka who moved there with her family at age 6. She lives, in the first home built, in her neighborhood for 54 years, but her home is now surrounded by many other homes.
She was born in Springfield in 1930 to Pearl Bushong and has 9 brothers and sisters. Her only living sibling, Stuart Bushong, lives in Monmouth.
Thelma graduated from Oquawka High School in 1941.
Her employment history includes 9 years as a Nurses Aid at Burlington Hospital in Burlington, Iowa, 2 years at Sylvania Electric, in Burlington, Iowa, until their closing, and one year at the Iowa Army Ammunition Plant in Middletown, Iowa.
Thelma enrolled at Carl Sandburg Junior College, in Galesburg, in 1970, and graduated in 1972 with an LPN degree.
She went to Monmouth Hospital where she was employed for 7 years, then to the Burlington Care Center, Burlington, Iowa, for 4 years and then was the only visiting nurse at the Henderson County Health Department for 10 years.
After that she worked for Dr. Villanueva 3 days a week and at Pine Wood in Monmouth on weekends and evenings.
Before retiring at the age of 79 she was employed at Oak Lane in Stronghurst for 12 years.
Thelma was married to William for 39 years before he died in a construction accident.
To their union were 4 children, William Jr. (Bonnie ) who lives at Orion, Susan who resides in Aledo, and twins, Dwane, deceased, and Diane who lives in Oquawka.
She has 12 grandchildren, William IV, Gretchen, Bobbie, Dan, Tanya, Jeffrey, Ginger, Michael, Terena, Ray and Mike along with 22 great grandchildren.
Thelma enjoys reading, painting with oil and acrylics, sewing, knitting, and her flower room.
All the years she and William had been married they had never been on vacation, but the year before his death they traveled to Wisconsin on vacation. She remembers especially the rafting trip William enjoyed.
When Pearl was 75 she remarried. She travels to the Monmouth YMCA where she swims each Monday, Wednesday and Friday.
Quite an active young lady!
---