The Hancock-Henderson Quill, Inc.

---
Tribute to Brian James Hetrick 1978-2008
At half-time of the West Central Heat football Senior Night against Fulton County, the life of Brian Hetrick of Stronghurst was honored during an unveiling of a sign placed on the football field scoreboard at West Central High School in his memory.
Brian's former teacher at Union High School, Alta Mae Brokaw, read the following tribute:
"It is indeed an honor and a privilege to have been asked to present a tribute to the memory of Brian James Hetrick," Mrs. Brokaw said.
She reminded that it was the hyphen between the 1978-2008 that was important and the reason they were paying tribute to Brian.
"In high school, Brian loved football. In fact, he was very good at it. Brian won 12 or more football related awards his senior year, including being named Union Yankee's First ever All -State Football Player.
But football was not the only place where Brian excelled. He was listed in Who's Who Among High School students for both academics and athletics.
Brian was inducted into the National Honor Society as a Sophomore. He tutored his peers, coached summer baseball camps, volunteered at Oak Lane Nursing and Rehab, helped senior citizens Christmas Shop, sandbagged, cleaned up after tornados, gave comfort to grieving co-workers, and loved to spend time with his family.
He gave up his own trucking company to allow more time with his family.
Brian was a Monmouth College graduate and played football for the Fighting Scots four years. He was nominated for Employee Of The Year at Great River Medical Center after his first year on the job.
In the words of his friends, teachers, employers, and family, Brian was compassionate, caring, enthusiastic, professional, and a leader. He exceeded expectations at work and was loved and admired by all that were fortunate to have known him.
Mrs. Brokaw said, "It is our sincerest hope that Brian's memory will be one of the foundation blocks for the traditions that we hope to build at West Central District #235.
Brian Hetrick will be remembered for the life he has led and the memories he has left behind. Indeed Heaven's doors have opened for him and have welcomed him home.
1978-hyphen-2008, what a hyphen it is, representing a very short 30 years, but in those 30 years, Brian accomplished more than most of us can only dream about in a normal lifetime.
Friend, husband, brother, son, Brian was loved and admired by all who were lucky enough to have known him."
Brian would rise early to take care of some of his Dad's livestock when his dad worked at JI Case before going on to school during his high school days.
He also was an avid hunter and later, at age 19, he decided he wanted to race sprint cars.
He would leave the football field at Monmouth College after the game and get to the 34 Raceway just in time for the races giving his all no matter what he did. The comments from competitiors, teammates, and those in the shadows that worked with him were nothing but praises. He gave his respect to all no matter how big, how small.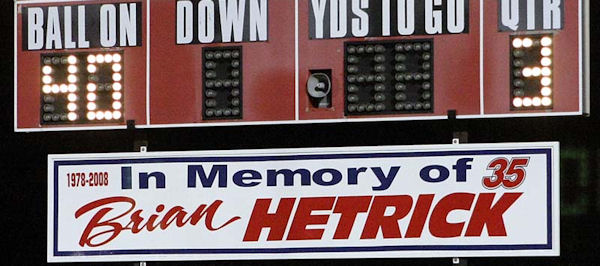 Above is the sign that was unveiled Friday at halftime of the Heat's last home football game as West Central gave proper tribute to Brian Hetrick for his outstanding accomplishments in his short life of 29 years.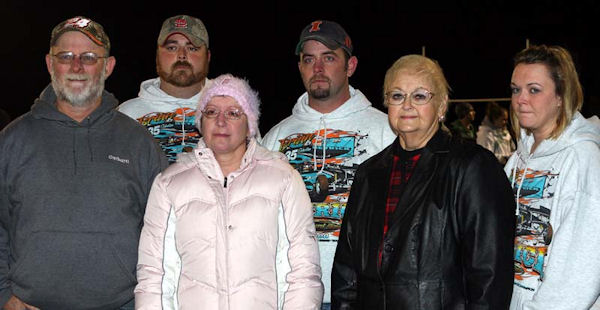 Jim and Joyce, Hetrick (left front), son Kevin (center) of Gladstone are joined by Kevin's cousins Dusty and Dana Hetrick and teacher Alta Mae Brokaw after Mrs. Brokaw gave tribute to her former student Brian James Hetrick 1978-2008, saying football was not the only place he excelled -see page 14
---