The Hancock-Henderson Quill, Inc.

---
Take The Quill Along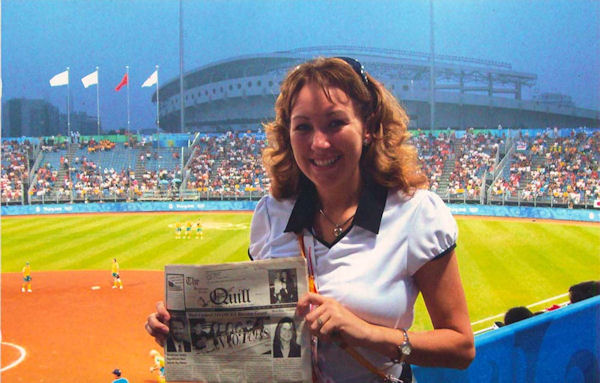 When given 2 tickets to the women's bronze medal softball game during the 2008 Beijing Olympics the first person I thought of taking was my cousin Kaitlin Sparow, but when it was not possible for this to happen I took the Quill. My name is Chastity Aguilar, I was given the opportunity to attend the 2008 Olympics. I worked for Behind the Scene based out of San Diego, CA; in the Johnson & Johnson pavilion. During my month in Beijing I seen a lot of interesting culture, sites, and met tons of new friends. Being this far away from home definitely makes one appreciate where they come from and all the things we have. My trip to China was an experience and opportunity I will never forget. My father is Kevin Rosenboom of La Harpe, mother, Ann Brooks of Ocala, FL and grandparents, Beryla nd Fern Sparrow and James Rosenboom, all of Lomax.
When you go on a trip, take The Quill along and capture your picture with it and submit it to us. Let's see where all "The Quill" can travel.
---