The Hancock-Henderson Quill, Inc.

---
"Oktoberfest' Celebration at La Harpe Davier
by, Laurie Magee, Quill Reporter
One could say something was in the air on the evening of October 1, 2008 at La Harpe Davier Health Care Center.
The smell of grilled food permeated the building and the awaiting of the big event that was going to take place later on after supper.
Residents, family and friends were served grilled brats, hamburgers, german potato salad, sauerkraut, green beans, apple strudel, with choice of beverage root beer, coffee, tea, or water.
All this delicious food was prepared by the La Harpe Davier Dietary Staff.
After supper the residents, family, friends and staff were entertained with toe tapping music from Junior and Alisa Talley.
Junior Talley is known for his talent of being an Elvis impersonator and has done so for the past 13 years, his wife, Alisa, sings Pasty Cline as well as other female artist since 2004. They have performed for several nursing homes around the area, and have been here several times performing.
Junior and his wife get up close and personal when singing to the residents, there is nothing more precious than seeing the glow and excitement on one's face when Junior and Alisa take their hand and sing to them.
La Harpe Davier residents and staff welcome you to come visit them and if you have a talent you would like to perform, playing an instrument, singing, dancing, reading, have a group of school children, Boy Scouts, Girl Scouts visit or just to sit and chat please call the Activity Director, Cassie Pratt.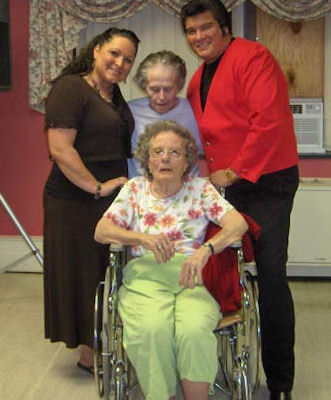 Junior and Alisa Talley, popular " area Elvis" and "Pasty Cline" impersonators, pose with La Harpe Davier residents: Marilyn White (center) and Irene Collins (front) :during La Harpe Davier's Oktoberfest celebration last Wednesday evening.
---