The Hancock-Henderson Quill, Inc.

---
Looking For Lincoln Text Rail Sign In Place
Members of the La Harpe Historical Society are pleased with the completion of the "Lincoln Text Rail" along Main Street in La Harpe's City Park.
Dan Gillett of La Harpe, and member of the La Harpe Historical Society, worked throughout last year and this, to find a way La Harpe could be recognized as a stopping place for tourist who sought the trails that President Abraham Lincoln traveled throughout his lifetime.
Finally, in an effort to recognize communities who might have had Abraham Lincoln as an overnight guest and speaker in their community, Gillett said, they were able to join the state-wide effort conducted by "The Looking for Lincoln Heritage Coalition."
They developed standardized signs known as the "Lincoln Text Rail" which focus on Lincoln sites and exhibits throughout Illinois.
This idea was a unique way in which they could encourage people and families and students to travel the trails of Lincoln and visit the small towns where the Nation's sixteenth President traveled to for an engagement, etc.
The Looking For Lincoln signs entice travelers by including historical facts and pictures of Lincoln's stay and/or event in each particular town and includes a rubbing relating to the stay.
In this way a person or student can lay a piece of paper over the symbol and with a crayon or pencil, rub the image from that particular text rail, then place it into a folder or booklet.
The Lincoln Text Rail at La Harpe has an image of a podium, as Lincoln spoke in La Harpe and spent the night in the King family home before he was elected President.
The LOOKING FOR LINCOLN project should have 220 signs installed in 42 counties designated as the Abraham Lincoln National Heritage Area managed by the Looking for Lincoln Heritage Coalition. Formed to preserve, interpret and promote the Lincoln sites, the "Lincoln Text Rails" will be wonderful marketing tools. $15 million in federal funds are available for Lincoln-related projects during the next 15 years.
These storyboards tell the stories of Lincoln and his history throughout the small communities of Illinois. The story is part of the great historic treasure Illinois has.
The La Harpe Historical Society did not let this treasured history of La Harpe be overlooked and are to be commended.
The Lincoln Text Rail project cost around $9,000 with the La Harpe community paying $3,000 (33%). These funds came from La Harpe businesses and clubs.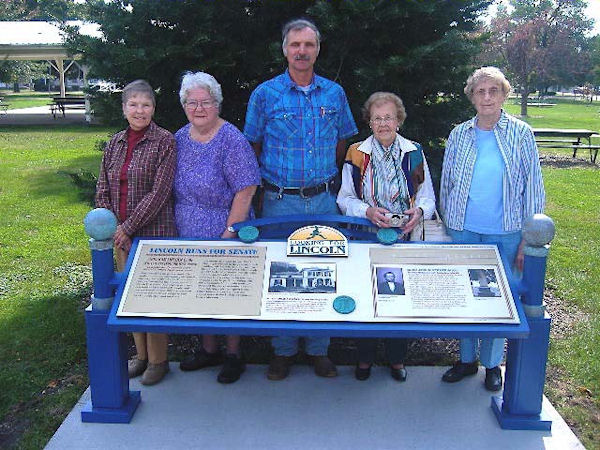 La Harpe Historical Society members stand in back of their newest project installed at the La Harpe City Park, The Lincoln Text Rail, which tells of the stop-over of Abraham Lincoln before he was President along with other bits of Lincoln history in our area. From left: Bev Anderson, Jayne Eckhardt, Dan Gillett, Myrtle Fife, and Ada Hubbard. -photo by Dessa Rodeffer, Quill Publisher
---