The Hancock-Henderson Quill, Inc.

---
Spotlight: Lika's Village Garden Restaurants
by Laurie Magee, Quill Reporter
Owner Lika Bekteshi, established the Village Garden in La Harpe on July 16, 2008. Besides this restaurant, Lika has two other restaurants named Village Garden, one in Marshfield, WI. run by his brother Agim Bekteshi and one in Roseville, operated by his brother Rami Bekteshi.
All the Village Garden Restaurants serve homemade all-you-can-eat daily specials.
Lika has added a lot of new things to the menu as well as kept many of the favorites people have grown to love. He said there are so many new items he couldn't just name one. He has been in the restaurant business since 1990 when he moved her from Macedonia near Greece. He and his family are Albanians, now Americans.
Lika's family was in the construction business but he very much enjoys the restaurant business. His brothers, sisters and cousins all help in his restaurants.
His most challenging experience is getting and keeping the help and most rewarding is the people.
"They are so friendly here," Shannon said. "On the way home in the evening, people just wave at you."
Lika plans on doing more renovations to his business, he likes to keep things changing.
The Village Garden can accommodate private parties and appreciate your business. Their hours are Monday thru Sunday 6:00 a.m. - 9:00 p.m. Phone Number 659-3228.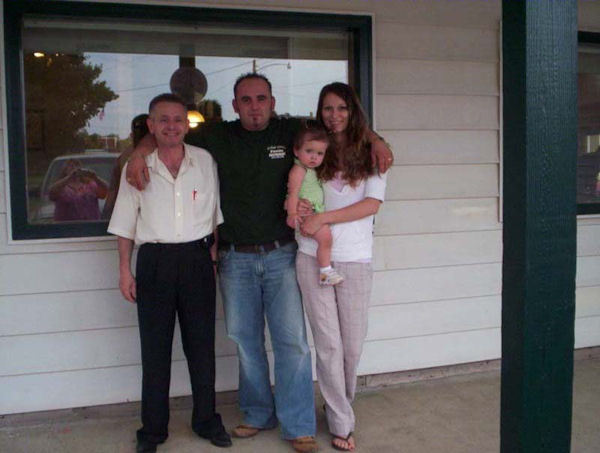 In front of the Village Garden in La Harpe are from left: Raim Bekteshi, Lika (pronounced lee-ka) and Shannon and their daughter Mia Bekteshi. Lika owns three "Village Garden" restaurants which he and his brothers operate. His third one opens today in Roseville, operated by Raim. They look forward in seeing you soon!
---