The Hancock-Henderson Quill, Inc.

---
Meet Your Neighbor
By Susan Galbraith, Quill Staff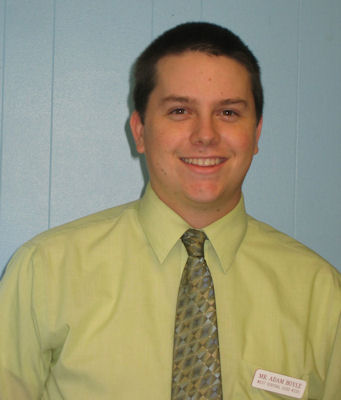 Meet Your Neighbor Adam Boyle. Adam lives in Stronghurst and is a new staff member at West Central High School teaching Social Studies to grades 9-12 and is coach for the scholastic bowl team.
He was born in Burlington, IA and raised in Oquawka.
Adam graduated from Union High School in 2001, and in 2008, from Western Illinois University, in Macomb, with a major in history and education.
Five months ago Adam married his bride Heather. He and Heather dated for 7 years prior to that. She is a cosmetologist at J. C. Penny in Burlington, Iowa.
Adam's mom is Debbie Boyle, from Burlington, Iowa. Debbie is employed as a postal worker at the Burlington Post Office. His dad is deceased.
He has one brother, Blaine (16), that lives in Burlington, IA.
Adam enjoys golfing and says his favorite place to golf is Hend Co Hills near Biggsville.
In his spare time he enjoys reading, especially non-fictional history and spending time with his wife and two dogs, Hunter and Henry.
He looks forward to starting a family in the near future and hopes his career, as a teacher at West Central, is a long one.
---