The Hancock-Henderson Quill, Inc.

---
Tenth Avenue North In La Harpe
by Jim Clayton, Quill Reporter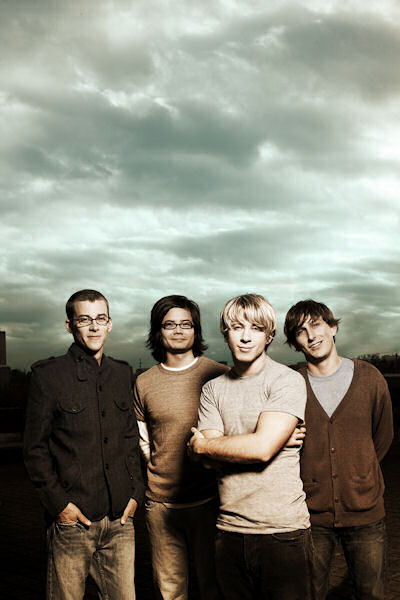 Tenth Avenue North is not a street someone lives on or a landmark to help someone find their way. It is the name of a contemporary Christian band that will be performing in the La Harpe Junior High School gym on Sunday, November 16th at 7:00pm.
You could say, however, that they are attempting to give direction to people, but the direction would not lead to them, it would lead to Jesus.
Lead singer and songwriter, Mike Donehey, puts it this way, "Simply, our mission as a band is to know Christ and to make him known. It's a grand adventure."
The direction the band has taken in their short history began in college in West Palm Beach Florida where all four band members: Donehey-lead vocalist/acoustic guitar, Jason Jamison-drummer, Jeff Owen-electric guitar/back ground vocals, and Scott Sanders-bass guitar, attended Palm Beach Atlantic University.
Donehey and Jamison were leading praise and worship on campus and were later joined by Owen and Sanders.
In their early work on the road, it seems they themselves could have used a little more direction.
"The first summer tour we did was interesting to say the least," said Donehey.
"We literally got a map out and said "Alright, everyone point out a spot where you've never been and where you'd like to go.' That's not the way you should go about it."
That may not be the most direct route to take, or the even the most spiritual, but it got them booked.
From Florida to Colorado in a borrowed van, they hit the road. Their chief sustenance was lunch meat, which is a pretty typical college diet.
"We borrowed a van from the college that we went to and it was fun. God provided for us. We met cool people and we ate lots of bologna," added Donehey.
Executives from Provident Music Group (which handles such names as Casting Crowns, Third Day, and Michael W. Smith) eventually noticed them and agreed to produce them. Their debut album titled Over and Underneath included their first single hit, Love is Here.
This song was followed by the ballad, Hold My Heart. Their single By Your Side is currently number 6 on Billboard Music's list of Hot Christian singles and number seven in the Adult Contemporary category.
The route they took to get to La Harpe was little bit more serendipitous than simply pulling out a map and picking a city. Their passion is what caught the attention of La Harpe resident, John Louden.
Louden went to see Mercy Me at the Burlington Auditorium in Burlington, Iowa and was pleasantly surprised from their opening act, Tenth Avenue North.
They only played four songs but, "It was obvious in their music that they had a real passion for the Lord, and to serve Him," says Louden.
He was so inspired that he looked up their management group, Third Coast Artists in Nashville, and sent them an email to find out about booking them.
After a prompt reply from Third Coast, Louden set the works in motion and made the arrangements to have them play here in La Harpe.
Louden wants everyone to know how privileged we are to have Tenth Avenue North here in La Harpe when they are really on the verge of taking off as one of the next big contemporary Christian bands.
It seems that Tenth Avenue North may become, after all, a landmark to help people find their way.
Tickets for the event may be purchased at The Union Church in La Harpe, all First State Bank locations, Computer Matrix and Logonix in Macomb, and at the Christian Book and Gift Shop in Burlington.
Tickets will also be available at the door at the same rates.
---