The Hancock-Henderson Quill, Inc.

---
Meet Your Neighbor
By Susan Galbraith, Quill Staff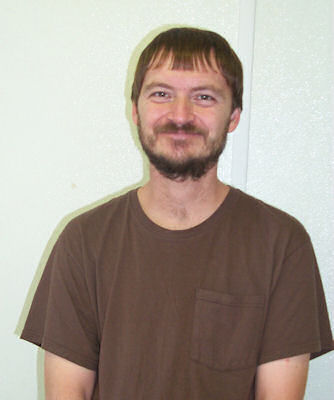 Meet your neighbor Ernie Waterman of Stronghurst.
Ernie was employed previously by Oak Lane Nursing and Rehabilitation, The Quill and currently does lawn mowing.
He was born in Galesburg and has grown up in the Stronghurst area.
In 1988 he graduated from Southern High School. He attended Southeastern Community College in Burlington, Iowa, for 2 years with an interest in science, and later was a photography major at Western Illinois University, in Macomb, for 2 1/2 years.
Ernie's father is Leroy Waterman and his mom, Anne, is deceased.
He has two brothers, David (Vickie) and Rick (Tina) and one sister, Carol, who resides at Warren Achievement in Monmouth.
He is the proud uncle of one nephew, Drue, and four nieces, Jennifer, Danielle and twins, Hannah and Jocelyn.
Ernie's hobbies include photography. He enjoys taking photos of weddings, graduations, Stronghurst happenings and any other pictures that friends or family asks him to take.
Since he enjoys nature, he loves to walk along the railroad tracks and take photos of wildlife.
He also relates that he loves spending time at the Stronghurst Senior Center and visiting with the ladies.
---