The Hancock-Henderson Quill, Inc.

---
Community Gathers For Cannon Rededication
By: Shirley Linder, Quill Editor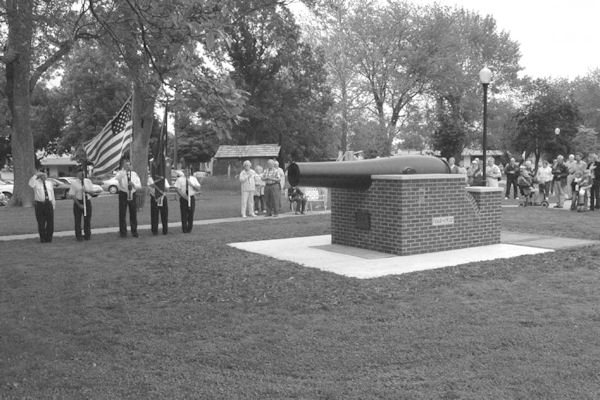 Over 75 people gathered at the Stronghurst village park at 4:00 p.m. Saturday, May 24th for the rededication of the Civil War cannon that has been in the park almost 100 years.
The cannon remains in the same location but is now set on a new pedestal of bricks with 202 memorials bricks laid at its base. Chris Cook and Tony Anderson served as the committee members for this project.
The re-dedication ceremony began with the American Legion Post #765 presenting the colors and Jimmy Jacob provided three patriotic numbers on his saxophone throughout the program.
President Eric Chockley welcomed all the guests who came for the re-dedication.
Commander Gene Heap of the American Legion Post #765 said, "This gun was donated by the US Government to the Geo. W. Evans Post No. 695. Geo W. Evans was a member of Company B of the 59th IL volunteers. He enlisted at Olena, IL July 17th, 1861 and was killed in the Battle of Pea Ridge March 7th, 1862, being the first volunteer from Henderson County to fall in the Civil War. The post through it's Commander Geo. J. Morgan, presented this gun to the municipality of Stronghurst, IL on May 30, 1912.
Chris Cook, giving the history of the park and cannon said, "Through the efforts of George J. Morgan, a huge cannon, weighing eight tons, was procured from the government to be placed in the northwest corner of the park. This gift to the George M. Evans Post No. 695 G. A. R. (Grand Army of the Republic), was made possible by Mr. Morgan securing the aid of Congressman J. H. McKinney and Congressman B. F. Marsh.
The commemoration ceremony was held July 19, 1912.
At the present time the park is used constantly in the summer months. A shelter house is used for family gatherings, public dinners and programs. Playground equipment is equal to any small town park and superior to most, and is well-used by the young set. A tennis court was added in 1981 from funds provided by the Annie Fort estate."
To close the ceremony Rev. Gene Turner gave a prayer followed by a barbeque pork meal with all the trimmings provided by the restoration committee and volunteers.
---