The Hancock-Henderson Quill, Inc.

---
Spotlight: Celebrating National Nursing Home Week
Mitch Worley, Quill Reporter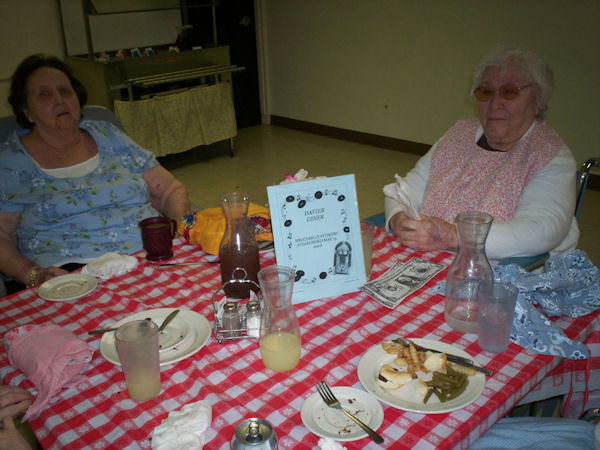 It's always a good time up at the La Harpe-Davier Nursing Home, but it was a bit different over the past week as administrators, coordinators, nurses, and volunteers got together to celebrate National Nursing Home Week.
Mayor Ken Brown stopped by on Monday to officially declare the week's event, kicking off the week after the proclamation by having a petting zoo.
Students from the La Harpe Elementary School stopped by for the occasion, and Kindergartners decorated pinwheels during the celebration as well.
Tuesday was a day of light competition between the staff and the residents. It was baseball day and a tee ball game was played between the two sides, and although resident Tot Rodeffer was on the shelf for the game, she thought the residents won, even though a score is not traditionally kept in tee-ball games.
Tot also said that if she played, "It wouldn't have been close!"
Mrs. Pollock's Kindergarten class dropped by on Wednesday morning to plant flowers with the residents, springing the plant boxes outside to life with petunias and marigolds.
After planting the flowers, the students came back to the lounge area and socialized with the residents, taking note of the many birds in the glass case that call the La Harpe-Davier Nursing Home their home as well.
It was a blast from the past on Thursday as the residents were treated to 1950s Day.
The staff at the home transformed the cafeteria into a 50s-style diner with everything from Rueben sandwiches, hamburgers, fries, and several other items that you would find on a diner's menu during the 1950s for the residents to choose from.
Later on in the day, they were treated to some frozen treats from the ice cream parlor that usually serves as the cafeteria, then had a Sock Hop in the lounge afterward.
Friday was a day of relative ease for the residents after the many activities prior in the week, making hats and having them judged by the staff at the home.
The final day of activities took place Saturday, as an entire street was closed off to facilitate a car show. Many fine automobiles showed up and dazzled the residents and members of the community that stopped by, as well as providing concessions at the event as well.
Hot dogs and soda was sold at the car show with the proceeds going toward the Alzheimer's Walk that will be going on in September.
It was a big week of fun for the residents and staff both at the nursing home, as well as a great opportunity for the community to interact and be a part of the good times that are always being had at the La Harpe-Davier Nursing Home.
---