The Hancock-Henderson Quill, Inc.

---
Meet Your Neighbor
by Mitch Worley, Quill Reporter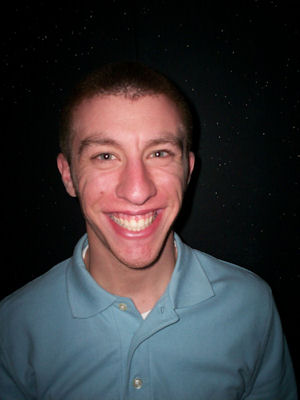 Meet Your Neighbor, Alex Peter Rodeffer, born at the Burlington Medical Center on September 30th, 1987 to Steve and Paula Rodeffer.
Alex is the only son and youngest of three children, which includes his older sisters, Jessie and Maggie, who carried on the Rodeffer tradition by all attending college at Southern Illinois University, at Edwardsville.
One of Alex's most cherished milestones was graduating from La Harpe High School as an Eagle in 2006.
Alex anticipates graduating from Southern Illinois University at Edwardsville in May of 2010 with a Bachelor's Degree in History Education.
In his free time, Alex enjoys golfing, playing video games, tennis baseball, watching the Cardinals play, and playing intramural sports at Southern Illinois University at Edwardsville.
His intramural team his freshman year finished as the overall champion, competing in softball, flag football, water polo, dodge ball, volleyball, and basketball, winning water polo, and dodge ball.
That same year, Alex was a part of history as he and several of his close friends watched the Cardinals clinch a World Series at the new Busch Stadium in just its first year of use.
Alex and his friends were just off the third base line after the Game 5 win, giving high-fives to Scott Rolen and So Taguchi as they ran by in celebration, which landed them in the background of the cover of the next week's issue of Sports Illustrated!
Alex said, "Undoubtedly, that was the best day of my entire life. Well: until they win it again."
In the next five to ten years, Alex plans to graduate college, settle down and start a family, and land a teaching job at a high school, maybe coaching some sports if the opportunity arises.
---