The Hancock-Henderson Quill, Inc.

---
Melissa's Memorial Service, Heightens Urgency for 4-Lane Completion
As a result of Monday morning's well attended Memorial Service for "Melissa," the mother and registered nurse who lost her life needlessly, outside the WC high school one year ago, and the hard work of 34Voices of West Central High School, a meeting has been set for today in Springfield, to unveil their request and handover more than 2600 local signed names on petitions requesting Highway 34 4-lane improvement.
Superintendent Ralph Grimm and officers of West Central's 34Voices arose bright and early to meet with Congressman John Sullivan and Glenn Poshard, one of Illinois Governor Rod Blagojevich's top officials for the Build Illinois program.
Illinois Works Coalition Co-chairs are Poshard, Southern Illinois University President, and former U.S. House Speaker Dennis Hastert.
The co-chairs had met in April with legislative leaders and the Governor and discussed the need for a capital infrastructure program. Hastert and Poshard had asked for the meeting to report on their Illinois Works Coalition's meetings around the state
The group agreed to continue meeting and working on passing consensus legislation for a comprehensive capital plan for Illinois.
The Coalition has been wanting to know, "how a capitol works program would benefit their communities.
They reported to the Governor and leaders that there is growing consensus to pass Illinois Works - the Governor's $25 billion capital program to build or rebuild critical infrastructure that would support 700,000 jobs statewide.
"After talking with families, businesses and labor leaders around this state, this Coalition is reporting what we already know - we must pass a comprehensive capital program now," said Governor Blagojevich.
"The nation's economy continues to struggle.Ê We need to make sure we're doing everything we can in Illinois to put people to work.Ê A capital program is central in our efforts."
"This bill would better improve our schools and transportation infrastructure," said Co-Chair Poshard.Ê Ê"Illinois Works would support some 700,000 jobs and that right there can make a huge difference in the lives of Illinois residents."ÊÊ
Illinois Works will support more than 700,000 jobs and fix the state's deteriorating roads and bridges, build and repair schools across the state, and provide resources for statewide economic development. The Governor's Illinois Works plan includes:Ê
$14.4 billion
for road and bridges
$3.8 billion
school construction
$2.7 billion
public transit
$1.1 billion
higher education
$1.1 billion
environment, energy and technology
$1.0 billion
economic development, including housing
$600 million
improved and expanded state facilities
$500 million
for airports and rail.
The timing might be right for 34Voices, if county residents and those who travel Highway 34 join the West Central 34Voices, and continue to turn up "the heat."
Legislators continue to express how important it is to have unity in purpose and support across the board, and that numbers to get politicians attention.
"Something Needs to Be Done, and It Needs To Be Done Now!"
-Miriam Rutzen, co-chair,
34Voices
Superintendent Grimm is taking Rutzen, co-chair Julianna Gillam, and two other of the 34Voices officers to meet with Senator John Sullivan and Dr. Poshard.
Rutzen asked, during the Memorial service, if you won't join her and 34Voices in the following efforts:
1. Voice your opinions, write letters to the editor, but don't stop there.
2. Contact your local, state and federal government officials and let them know this is serious, and Highway 34 is dangerous, and real lives are being lost, and a 4-lane will help greatly to ease the problem.
3. Don't only write, but make personal phone calls to government officials. If you are nearly involved in an accident, or another accident occurs, call them and let them know.
4. Mix patience and persistence, no matter how long it takes, we can't give up! 34VOICES will need your support when we go to Washington D.C. and speak before legislature in Congress, and we need to know that back here our -home-crowd is cheering for us to make a difference.
5. Last but not least, join a group, like Highway 34 Coalition, 34 VOICES, or other civic groups and work together.
Rutzen said, "Become informed, become armed, if you may, so that when people ask you about Highway 34 they can see and hear what it means to you. Make this battle personal. Make it a fight for your safety!"
She reminded, that as a team, "We can accomplish anything! Will you join us in the struggle? Will you help our voices to be heard?"
Rutzen continued, "I implore you, that for the sake of your loved ones, for the sake of those who have already lost their lives, and for the sake of those who may yet lose their lives, that you will raise your voice and that together we will let everyone know that this is our time to speak. And that we will make a difference!"
Students gathered to memorialize the death of Melissa that many students had witnessed on that somber May day last year. And they remembered the unnecessary deaths of others who have lost their lives along this dangerous stretch of Highway 34.
"The danger is real, the clock is ticking," Ruthzen expressed. "This is not a class project. This is not a one year whim!
"We are the voices of a student body, of a community, that is afraid."
Rutzen suggested the next victim could be a classmate, a community member, a daughter, a parent, a teacher.
"We do not want another family life thrown into turmoil We desire to be safe, to be protected, and to grant that same security to those merely passing through.
"When the steps to fix the problem are there, written out, and yet nothing is being done, we must speak out until necessary changes have been made to make Highway 34 four lane."
"Many say fear is a powerful motivator."
Some students are not allowed to travel Highway 34, Rutzen said, unless absolutely necessary, but for the most part, it can't be avoided.
Those in 34 VOICES draw hope as they see a community coming together with 2600 names signed on petitions.
Supt. Ralph Grimm told the family of Melissa Munoz that "no one in this room can totally comprehend the changes that you have had to endure:the pain you have suffered, the sorrow you must feel.
"I hope that somehow you can understand that you have not suffered alone."
Grimm told Melissa's family that 34 VOICES "have been spurred into action like few student groups I have been associated with in my 23 years of being an educator. I am so proud of our students for their compassion, dedication and commitment to doing their part to see that the US Route 34 highway expansion project becomes reality.
To the Munoz family, please know that our students will not let Melissa's death be just another statistic," and he gave their pledge to continue to work for the highway expansion project so no other family has to endure a loss of such a loved one.
Miranda Clark detailed that dreadful day when she heard the rocks in the back make a large noise and sounds of vehicles crashing. They hurried to the windows and she said some students jumped out the windows and many school staff volunteered to help with the accident.
They could see former students were involved in the pile-up.
Miranda, vividly recalled that day, and was full of emotion.
"I was petrified to drive on Highway 34 when I left the school that day.
"This accident has left a profound impact on the student body as the dangers of Highway 34."
"Everyone knew this highway was dangerous, however, witnessing this fatality in our front yard when school was in session has put everything into perspective for us."
"It could have been any one of our students:a teacher,:a family member, or a friend. Unfortunately, it was Melissa. Someone we have all come to know - a young wife and mother who lost her life.
"What action will you take to prevent this from reoccurring?"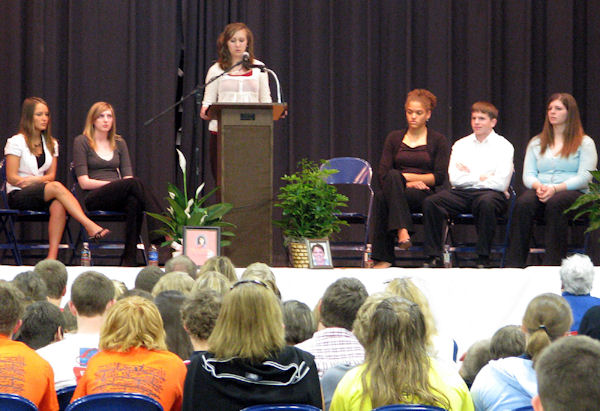 Juliana Gillam Co-chair of 34 Voices, leads West Central classmates through a Memorial Service on the one year anniversary of the tragic death of Melissa Munoz.
---