The Hancock-Henderson Quill, Inc.

---
Take The Quill Along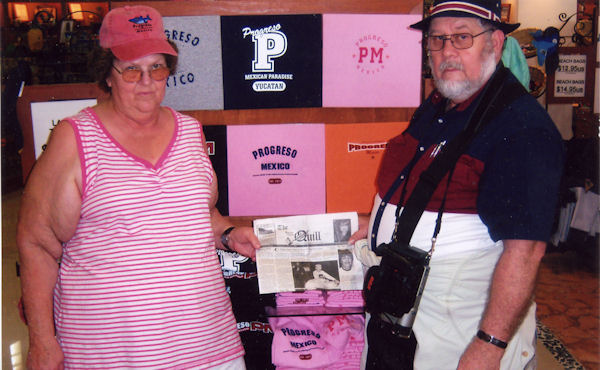 The Quill traveled with Jake and Mary Snelson of La Harpe, and Jerry and Debbie Johnson to New Orleans, Louisiana for a cruise trip to Mexico.
The trip was a gift from Debbie (their daughter) and husband Jerry for the Snelsons' forty-eighth wedding anniversary.
The cruise went to Cozumel and Progreso, Mexico and back to New Orleans January 11-18.
The ride to Cozumel on Saturday and Sunday was "smooth as sitting in your front room," they said, however, there were rougher waters on the trip to Progreso.
They enjoyed the cruise very much, and are ready to enjoy another voyage.
When you go on a trip, take the Quill along and have your picture taken with it, and submit it to us. Let's see where all the Quill can travel.
---