The Hancock-Henderson Quill, Inc.

---
Meet Your Neighbors
by Diane Spilker, The Quill Staff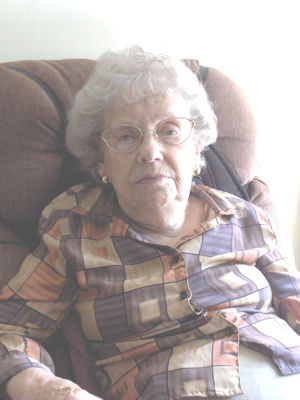 Meet your neighbor and La Harpe Davier Care Center's Resident of the Month-Roberta Haines.
Roberta was born on July 16, 1916 in Hancock County to Kerus and Zola Houston. Both Ellis and Zola were farmers in the Hancock County area before retiring and selling the family farm.
She has 2 brothers, Edward Houston, killed in the war and Keith Houston. She also has one sister, Dorothy Baker, Quincy.
A graduate of the Fountain Green High School in the mid 1930s, Mrs. Haines helped out on the family farm before meeting her husband, Ellis Haines. Ellis passed away in March of 1989.
Roberta moved into the La Harpe Davier Care Center about two years ago, where she enjoys playing Bingo, participating in the Exercise Class and reading quietly in her room.
For being selected La Harpe Davier Care Center's resident of the month, Roberta received a plaque for her room and/or door which states, "Life is a Garden, Tend to it with Joy" and is decorated with flowers and butterflies.
Roberta enjoys company if you have time to stop by.
---