The Hancock-Henderson Quill, Inc.

---
Meet Your Neighbor
By Susan Galbraith, Quill Staff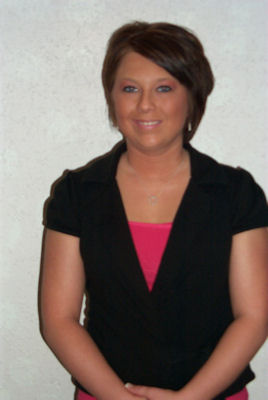 Meet Your Neighbor Tiffany Mershon of Stronghurst who works part-time at The Alternative and at Doran's Insurance & Services, Inc. in Stronghurst.
Tiffany was born in Macomb and raised in La Harpe.
She graduated from La Harpe High School in 2002 and from The Carl Sandburg School of Cosmetology in Galesburg in 2007. She also attended John Wood Community College in Quincy taking classes in Horticulture. Someday, in the future, she would like to focus primarily on Horticulture.
Her dad is Mike Mershon, and owns Mershon Trucking in La Harpe. Her mother, Brenda, lives in Dallas City and is employed by Methode in Carthage.
She has one brother, Kevin (Madison) Mershon. Kevin is in the Marines and stationed at Camp Le June, North Carolina. She has one sister, Kelsey, (13) who is a student in Dallas City.
She enjoys playing pool and is in league play on Thursday night and a coed tournament team on Sunday.
Tiffany likes spending time with family and friends.
A memorable trip was in December when she went with the Doran Insurance & Services, Inc. family to Mexico. They went on a tour to the Island of Las Calenas at Puerto Viarta where she had a massage, participated in a cooking class, viewed sea lions, and enjoyed sightseeing on the island.
On Labor Day she visited her brother, Kevin, in North Carolina and plans to travel to North Carolina again in two weeks. Tiffany looks forward to spending time with he and his wife in North Carolina in the future.
---