The Hancock-Henderson Quill, Inc.

---
Meet Your Neighbor
By Susan Galbraith, Quill Staff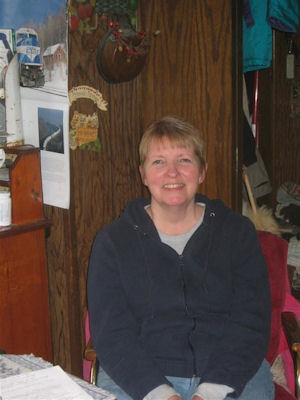 Meet your neighbor Mary Crum of Oquawka.
Mary has been employed at Doran & Ward Printing Company in Burlington, Iowa, for 14 years. She is in the logistics department and handles the shipping and receiving components of the company.
She was born in Monmouth and raised in the Rozetta area.
Mary graduated from Union High School in 1968 and has taken business classes at Carl Sandburg College, in Galesburg,
She has been married to her hubby, Randy for 7 years.
She has two daughters, Cindy (Mark) Shamblin of Oquawka, and Tric Halloway of Evansville, Indiana, and one step-son, Dan.
She has 4 granddaughters, Megan, Makaiah, Daphne, and Adrana Binder, and one grandson, Austin Shamblin.
Mary has one brother, Dwight (Marilyn) Sargent.
She said when she broke her ankle this winter her brother and wife have been so good to help out whenever she needed them.
She loves going to auctions, collecting old lanterns, and Indian artifacts such as arrowheads and also Indian blankets. She enjoys being outside in the summer, flower and vegetable gardening.
Mary also has quite a number of animals including, goats, chickens, ducks, geese, a guinea, a dog and several cats.
Her home is a burm or underground home that she helped build in 1979. It took one year to complete. Theirs being one of three underground homes in this area.
---