The Hancock-Henderson Quill, Inc.

---
Meet Your Neighbor - Mitch Worley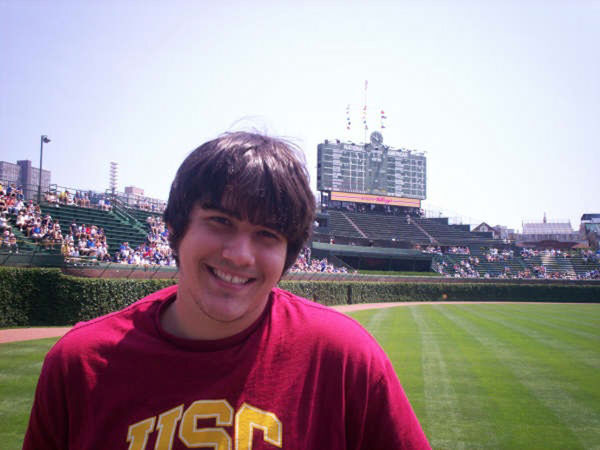 Meet Mitch Worley, a life-long resident of La Harpe and part-time contributor to The Quill newspaper. He was born February 29th, 1988 to Kelly Worley and Nicole Day (now Nicole Fowler).
Almost straight out of the womb Mitch became interested in sports as his father spent quality time with his newborn son watching the epic battles between the Celtics and the Lakers in the late 80s.
From the time Mitch first took the field as a right fielder in Coaches Pitch, he devoted a great deal of time and effort into learning as much about the game of baseball as he could, as well as trying to hone his skills and become a successful player.
As time progressed and Mitch got older, he became involved more with friends, student organizations, and of course kept his love for baseball amongst all these new developments in his life.
Throughout junior high he was a member of the Student Council, as well as a basketball player from 5th grade until the end of his 7th grade season. A mortifying knee injury between his 7th and 8th grade year all but seemed to end the chapter of Mitch's life he had such great passion for, which was playing baseball and sports in general.
During high school Mitch was involved with numerous activities such as football, Scholastic Bowl, the LHS Drama Club, Student Council, FFA, the Hancock County Leadership Academy, and was even the Class President his sophomore year.
Mitch's Scholastic Bowl career was capped off by a rather unexpected honor upon the completion of the West Central Conference tournament his senior year, where he was honored as an All-Conference selection for the season.
Unfortunately, Mitch's ailing knees kept him from being able to participate in baseball yet again throughout high school, as well as all other sports. He then learned to focus his talents on other things, as well as finding his high school sweetheart he is now soon to marry.
Most of his family and friends thought he was crazy in the winter of 2006 when he received a phone call from Lincoln Christian College's head baseball coach, Joe Mollet. Coach Mollet had found some information about Mitch in his office as he discarded some of the former coach's things and being a player or two under his liking, Coach Mollet called him up and asked him very plainly if he would like to become an LCC Preacher, and Mitch cordially accepted without hesitation, thus pursuing his dream to play baseball collegiately.
After one season at LCC, Mitch's thrice surgically repaired knees could no longer withstand the day to day stresses of being a college baseball player and forced him to finally hang up the cleats. He does in fact hold a record that will never be broken at any level of college baseball with an earned run average of infinity as a base runner he had put aboard was singled home after a quick exit from the game getting no batters out after getting hit by a line-drive in his pitching shoulder. Along with that, Mitch not only fulfilled life-long dreams by pitching in a college baseball game, but he also got to start in two baseball games at the college level starting a game at third base against Eureka College and a game in left field at Robert Morris College of Springfield.
If you ask anyone anything about Mitch in the here and now, the first thing they will tell you is that a vast majority of his time, thoughts, and efforts are spent on one thing: his lovely fiancˇe, Melissa Parsons.
As stated earlier, they met during their sophomore year as she attended West Prairie High School and Mitch attended the glorious learning institution of La Harpe High School.
Mitch and Melissa have been together now for about four and a half years and are looking to get married in the spring of 2009 after Mitch's marriage proposal was accepted February 15th of this year.
Along with contributing to the Hancock-Henderson County Quill, Mitch also is a disc jockey and sports broadcaster for News Radio 1490 KBUR, Mix 107.3, 101.7 The Bull, and 1360 The Ticket, along with being a full-time security guard at a factory nearby Fort Madison, IA, and is a full-time student at Southeastern Community College in Burlington, IA. Mitch will be completing his Associates of Arts in May of this year, and then transferring to Western Illinois University to complete a double major in Broadcasting and Journalism.
---