The Hancock-Henderson Quill, Inc.

---
New Interim Pastors At Biggsville and Gladstone United Methodist Churches
By Susan Galbraith, Quill Staff Reporter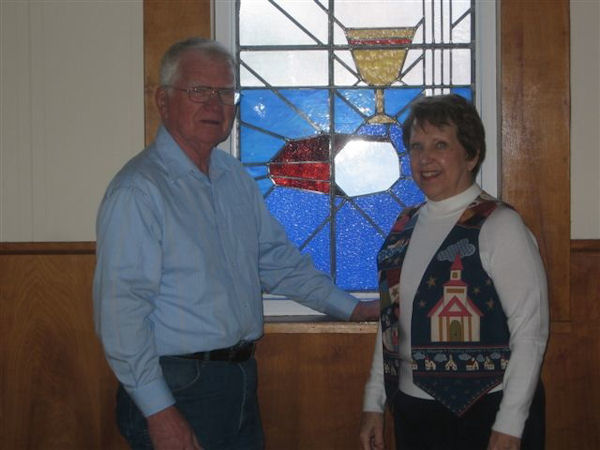 The new interim pastors at the Gladstone and Biggsville United Methodist Churches are Pastors Robert and Sheila Fitts.
Pastor Roberts graduated from Mt. Vernon High School. When he was a high schooll Junior he joined the Illinois National Guard and served for 6 years with the 44th Division. He was on active duty for 2 years during the Korean War with the 7th Division.
He received his BA degree from McKendree College and a Master of Divinity Degree from Garrett Evangelical Theological Seminary.
Pastor Robert was ordained an Elder in the United Methodist Church in 1963. He has served pastorates in southern and central Illinois.
He also served as Central Illinois Conference Director of the Ministry of Criminal Justice ministering to those in jails and prisons.
When a pastor at Trinity United Methodist Church in Milan, he also spent 3 years as chairman of the Milan Police Commission and served 5 years as an auxiliary police officer.
Pastor Fitts recently has served as president of the Quad Cities Chapter of Korean War Veterans and following that he was elected President of the State of Illinois Korean War Veterans Association. He is currently on the board of directors for the National Museum and Library to be built in Springfield.
His family includes two sons, Robert Jr. deceased and Terry Fitts of Bloomington; and one daughter, Sheryl Ann Bradley of Normal.
Pastor Sheila Fitts was born in Chicago and graduated from Moline High School. She earned a degree in Elementary Education from Illinois state University in Normal.
She has taught kindergarden and first grades.
Pastor Sheila's seminary course work was done at Garrett, The University of Dubuque and St. Pauls Schools of Theology. In 1997 she was ordained a deacon in the Illinois Great Rivers Conference.
She has served churches in Moline and Carbon Cliff. She has also served, for 12 years, on the staff of Churches United of the Quad Cities as program manager and the director of single adult and jail ministries.
After her retirement she spent two years as Registrar for the Board of Ordained Ministry.
Her family consists of Michal Meidel, of St. Petersburg, Pennsylvania, Cathy Archer of Davenport, Iowa, and Kurt Meidel who is a Lt. Colonel in the Air Force at Oakridge, Tennessee.
They have nine grandsons and two grandaughters.
Pastor Robert and Sheila commute to this area during the weekends and one day during the week, but their home is in Rock Island.
---