The Hancock-Henderson Quill, Inc.

---
A Second Coming Of 500 Year Flood
Mitch Worley, Quill Reporter
Hancock County and the surrounding area has been hit hard over the past couple of weeks by raging flood waters that weren't to be seen again for another 485 years.
Most thought the flood of 1993 would forever serve as the model of devastation via Mother Nature's sometimes-fierce wrath, but even higher waters trumped that naive thought during this summer of 2008.
Dallas City has now had to deal with both brutal flooding occurrences, and again has witnessed the community bonding together like one giant family, as well as received the same remarkable help and support from those outside of the community.
Mayor Ruth Higgins was continually mystified as each day the usual 25-35 United States National Guard members showed up to work alongside the people of Dallas City in relief efforts, along with having 40-50 members of communities abroad on a daily basis from the likes of Macomb, Carthage, La Harpe, Warsaw, Camp Point and even a man from another state on his way to Canada to pitch in.
"It's been almost overwhelming sometimes when you see how many people from have come to help out. As usual with this community, everyone pulls together," Higgins said.
Last Tuesday brought an even greater response that totaled around 100 volunteers from other towns with the potential that the next day would bring the river's crest to well over 25 feet, which was higher than the river rose in that particular area during the last major flood in 1993.
Mayor Higgins was not only concerned about her own town, but also worked as much as she could with Niota and Pontoosuc to help give aid to their communities, as Pontoosuc was completely underwater and could only be reached by boat.
Although major natural disasters like this can't be altogether avoided,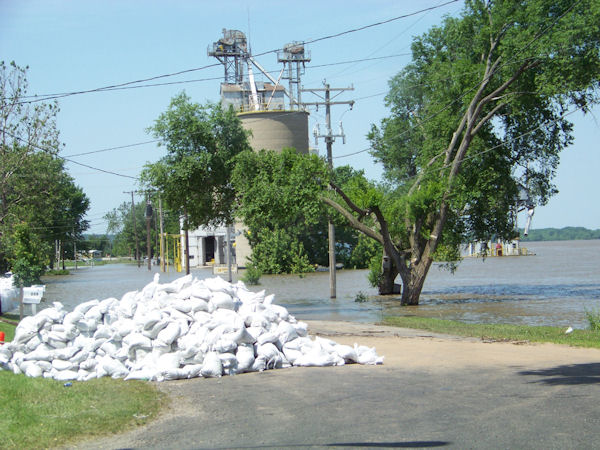 Volunteers from throughout the area flocked to sandbag last week. -photo by Mitch Worley, The Quill
---