The Hancock-Henderson Quill, Inc.

---
Meet Your Neighbor
by Mitch Worley, Quill Reporter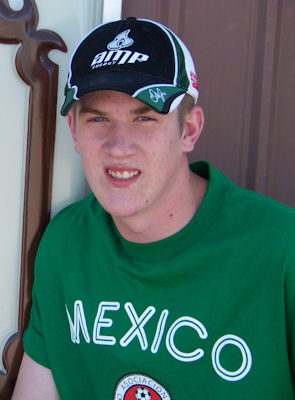 Nathan was born to Brett and Michelle Cox at McDonough District Hospital in Macomb, on November 2nd, 1989.
He was a member of the first graduating class at Illini West High School this year, participating two years in Scholastic Bowl, and one year of football, Student Council, and FBLA.
In his free time, Nate enjoys golfing, playing pool, hanging out with his friends, following his favorite pro sports teams, and NASCAR.
Just before graduating high school, he had the time of his life by doing something he'd always wanted to do.
"Going to Talladega Speedway this year was really fun. I've always wanted to go to a race," said Nate.
Throughout Nate's high school years at LHS and Illini West, he caught a great deal of flack for being a fan of the Kansas City Chiefs and Kansas City Royals.
Understandably though, Nate is a fan of those two teams as he spent some of his childhood in Kansas City before moving back to the area.
Just after the beginning of the summer, Nate ended his employment, a waiter at the Hotel Nauvoo, to enjoy a break before heading off to the service.
Nate will be leaving August 4th to enter the Navy and become a Master of Arms, similar to a Military Policeman.
When talking about his decision to enter the Armed Forces, Nate said, "I've always wanted to be in the Navy. It'll help pay for college and I get to serve my country."
Once his commitment is fulfilled with the Navy, Nate plans to go to college and become a police officer, or join the border patrol.
---