The Hancock-Henderson Quill, Inc.

---
A Break In Carthage Lake Levee Tuesday Causes Chaos
Thankful To Be Alive After Levee Breaks
by Misty Huston, The Quill
Carthage Lake: Tuesday, around 4:00 a.m. Johnny Galbraith was awakened by his neighbor banging on his door and yelling, "The levee broke! We have to get out!"
Johnny scrambled to throw on some clothes, grabbed his dog, and jumped into his truck to get out of there.
"In less than ten minutes the water was rushing in and I knew I had to get out fast," Galbraith said, after he and his dog had survived the flood raging waters of the Mississippi.
"I called my dad to tell him that the levee broke and I was on my way to their house, (outside Gladstone) where I knew I would be safe."
Johnny said, "The water was rushing faster and faster and rising higher as I raced for safety."
"I didn't make it far before my truck stalled in a low spot on the Carthage Lake road. The water was rushing in around me and inside my truck."
Johnny called his dad back to let him know that he was trapped and that he needed him to get help.
"I climbed out and sat on top of the cab with my dog for about half an hour just watching the water rise higher and rush faster around me, and wondered if I would survive.
"At this point the current became so strong that the water rolled my truck and threw me into the middle of the current with nowhere to go.
"I told my dog "I'm sorry girl, but there's nothing I can do. I hope you can make it, and I'll see you again, but right now I just have to save myself.'
"I told myself, "I have to start swimming the best I can and don't give up.'
I swam for approximately 200-300 yards before I finally hit the timber line and was able to catch the last branch. I just hung on for dear life."
As I clung to the tree, I looked out across the water and there was my dog swimming towards me. There was some debri caught up in the trees right next to me and she swam up and crawled up on it. Somehow, in all of this chaos and confusion we ended up in the same spot in that timber line. It gave me hope.
"In a time span of about an hour and a half, the DNR and their lifeboat came and rescued me and my dog.
"It sure seemed like an eternity to me and my family, who were waiting for me to get rescued and safely back.
"It was especially hard for my dad to see me from a distance in danger, yet officials could not allow him to endanger his life to rescue his son.
"We're just all glad the ordeal is over," he said.
There were four residents, who had been helping earlier to sustain the levee, who were rescued that morning either by boat or helicopter.
They include Larry Gapen, Jim and Kathy Brownell, all who were trapped on the levee, and Johnny.
In addition, several cats and dogs were also rescued.
Johnny said, how very much he appreciated everyone that was out there who played a part in helping with the rescue of them and their pets.
Others reported that some others had walked the levee to Gulfport to escape the dangers of the flooding waters.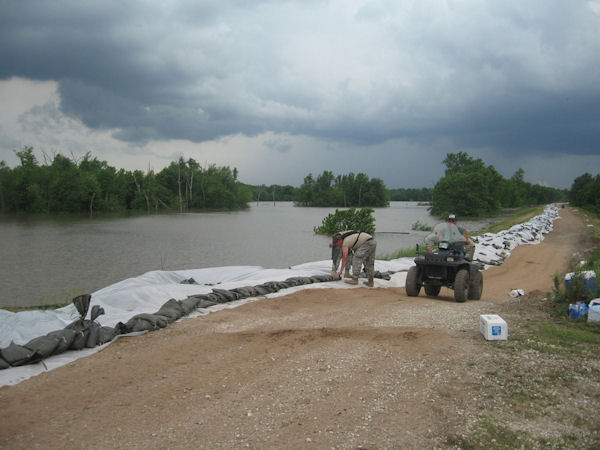 Sandbaggers were busy all weekend securing the road into Carthage Lake, but early Tuesday morning the Levee gave way causing wide-spread flooding. The lake is where all the county drainage districts pump into and then water is pumped into the Mississippi. Therefore waters backslide into districts across the county. -photo by Jennifer Baxter
---