The Hancock-Henderson Quill, Inc.

---
Spotlight: La Harpe: The Tri-State's Motor City
Mitch Worley, Quill Reporter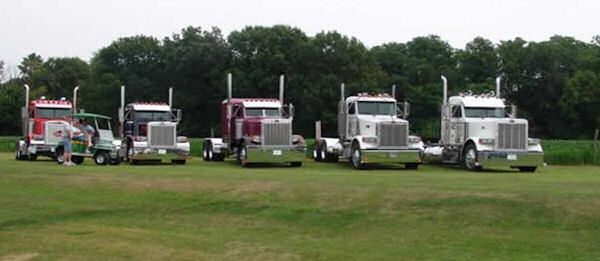 Although most La Harpeians inadvertently disregard our hotrod heritage, La Harpe is actually very prolific in the world of automobiles.
It all started as Charles Duryea called a growing La Harpe home, graduating from La Harpe Gittings Seminary, then going on a little over a decade later to begin manufacturing and selling the first gasoline-powered automobiles.
Next, Fred Gibb brought to the world the ZL-1 Camaro and during that time period, Herb Fox fearlessly dominated the drag racing scene, owning a double digit number of records throughout his illustrious racing career.
Now, La Harpe is one of the hottest spots at least for a week in the Midwest with the Fred Gibb Memorial Car Show, an event that attracts car enthusiasts from all across the nation to gush over exotic dream cars all men wish they had, followed by Summerfest.
There are hundreds of people that work to make this car show such an amazing success, but there are two men in particular that organize this event and bring everything together for this very special day.
Mayor Ken Brown and Bob Lionberger are the two men most commonly associated with putting the car show together, and this year is going to be one for the ages.
Since this is the tenth annual edition of the Fred Gibb Memorial Car Show, many new and exciting things are on tap for the milestone celebration.
The original opening celebration for this year's car show was going to be so spectacular that the only thing that nixed the plan was the Pentagon.
Mayor Brown explained, "We planned on having C-130s do a fly over for the opening ceremony, but the Pentagon doesn't want us to do it. I've had Dick Durbin and John Sullivan trying to work it out and I've talked to people within the Pentagon and sent e-mails to them and there's just a lot going on right now in Washington. There's still a slim chance our plan will go through, but if we don't hear something soon, I wouldn't count on it happening."
There will still be quite the display to kick off the event as there will be helicopters and a bi-plane featuring acrobatic flight as well as a paratrooper descending upon the car show.
While registration begins at 8 a.m. and lasts until 11 a.m., the opening ceremony will commence at 10 a.m.
There will be a Presentation of Colors, the National Anthem performed by Melissa Burt, and the Union Church's Pastor Bruce Goettsche will be present for the invocation.
Once registration comes to an end at 11 a.m., voting for all of the 44 classes will take place from that point on until 2 p.m. and the awards being presented at 3:30 p.m.
Mayor Brown eagerly spoke of the new additions to this years event by stating, "The show layout will be the same as last year, but will have some different classes with a semi class and there will be some street rods and a new Gibb car that hasn't been here."
Bob Lionberger was very excited when he spoke of the new semi class because one of the trucks that will be at the show was remodeled and "tricked out" on CMT's "Trick My Truck".
Bob also talked about this year's attendance numbers and sounded very optimistic about how many people would participate in this year's show.
He said, "We are looking better this year than we have in previous years. We're way ahead of where we thought we would be in pre-registrations."
So far, there are over 100 pre-registrations that have been confirmed.
Mayor Brown followed along those same lines in talking about how amazing the participation has been from far away places, especially with gas prices being as high as they are.
"We've got entries from people in Georgia, Colorado, Michigan, Indiana, Florida, Minnesota, and places all over the East Coast. There's even someone coming up from the St. Louis area to volunteer and help out with our car show. "We appreciate all the support and sponsorships from all the local businesses and individuals, as well as all of the sponsors outside of our community and everyone that has and will volunteer their time to make this as big of a success as it looks like it will be."
Even though the main attraction to the car show is the cars, there will be many other events taking place besides just walking around and admiring all of the cars.
An auction will take place for unworn shirts from every car show in a package totaling ten shirts, as well as clocks and a framed printout of this year's t-shirt design.
All proceeds of items sold go to benefit the Fred Gibb Memorial Scholarship.
There will be many door prizes given away, including a drawing for patrons 15 years of age and younger when accompanied by an adult for a rather large 2010 Concept Camaro RC car that will be decked out in all of the Fred Gibb stickers.
Many other groups will be attending the show with various presentations and things to offer as their will be a recruiting station for the Armed Forces, Carl Sandburg College will have a stand with an engine in it to try to stimulate interest in their automotive program to younger groups of people and anyone looking to start a career in the world of automotives, several radio stations such as WCAZ in Carthage and others from Burlington and Quincy will be covering this year's car show with live broadcasts, along with coverage being provided by Midwest Muscle Car Magazine, and the Golden Rule Club will be attending the car show to sell food.
Once the car show ends, the fun will continue in Macomb for the Park and Cruise on Macomb's City Square.
Undoubtedly, this will be the biggest and best car show to date, but it seems that this growing car show in our little community will continue to grow and become more and more popular as the years roll on.
---