The Hancock-Henderson Quill, Inc.

---
Meet Your Neighbor
By Susan Galbraith, Quill Staff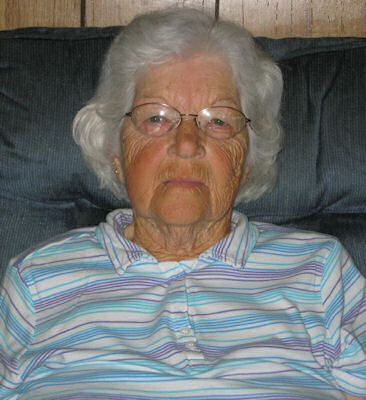 Meet Your Neighbor Olive Bailey of Oquawka. She has been a farm wife, is a mom, grandmother and great-grandmother and says she has loved every minute of her very important roles.
She was also a school bus driver for the Cedar Oak and Lynndale country schools for 4 years until the schools consolidated to Biggsville.
Olive was born in rural Biggsville where her nephew and wife now reside. In fact the home she was born and raised in is on the corner of three townships, Oquawka, Gladstone and Biggsville.
She attended Gladstone High School for 3 years and her senior year was spent at Biggsville High School where she graduated in 1937.
Her parents were Cavart and Zella Bigger. She says, "I was always called a litter Bigger".
Olive said she lost both her parents within 6 weeks.
In 1940, at the age of 19 years, she married Clyde Bailey at the home where she was born and raised. She and Clyde were married for 63 years.
They lived at Jinks Hollow in 1941, moved to the County Farm in 1956, and on December 10, 1984, she and Clyde moved into the home she presently lives in which was built by their children.
Their union produced 4 children, Gary (Janice), who live part time at rural Oquawka and Mission, Texas; Beverly (Joe Zielke) of Rozetta; Barbie (Darrell) Lathrop; and Chuck (Gayle) of rural Oquawka
She has 9 living grandchildren whom are the joys of her life. Lisa Sloan; Roger, Tim and Tom Zielke; Michael (Tania) Lathrop; Michele (Chad) Hultgren; and Bekah, Leah and Kyle Bailey. Bud is deceased.
She also has 13 great-grandchildren, Joe, Mike, Amber, Anna, Allison, Abigail, Audrey, Ruth, Josiah, Madeline, Moira, Everett, and baby Claudia.
She has three brothers who are deceased. Robert, Phillip and Bill; one sister, Helen McAllister who lives at Bickford Cottage in West Burlington, Iowa.
She has been a member of the Oquawka Methodist Church for over 50 years where she has played the piano, organ and sang in the choir retiring from those duties the last couple of years.
Olive is or has been a member of H.C.E. (Home Community Education), United Methodist Women, the Henderson County Library Board, Oquawka Cemetery Board, Republican Women and the delightful Red Hatters.
For 10 years she and Clyde vacationed each January in Phoenix, Arizona, where Clyde competed in the amateur trap shooting competition. In 1959 at Vamlat, Ohio, he won the national competition.
---