The Hancock-Henderson Quill, Inc.

---
A Great Big Bigger "THANKS!"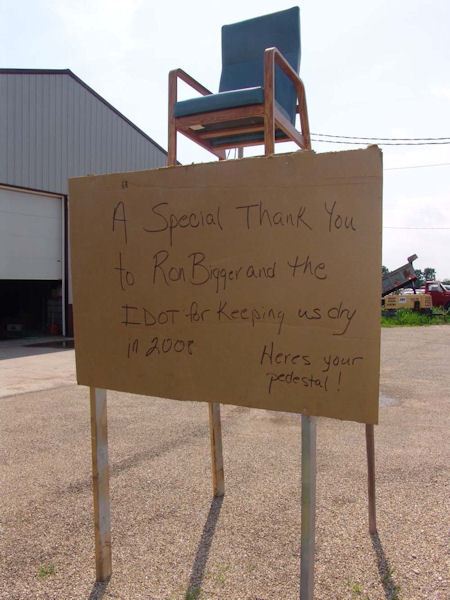 "Ron Bigger of Oquawka, he's a good guy," said Byron Sebastian of Gladstone, as he sat near a "makeshift" pedestal he designed and constructed to show the good feelings he and others around Gladstone have for Henderson County's IDOT supervisor.
"If it wasn't for Ron and the rest of his IDOT crew who came, the north side of Gladstone north of the tracks would have had 13 inches of water.
"In 1993, we were dry, but this year brought in 13 more inches of unexpected flood waters, and it may not be over yet."
"I've been telling Ronnie that everything he's done here has kept several of our businesses and about 20 homes dry."
Sebastian said that there are others he needs to mention that have gone out of their way, like Kevin Shauman of K&S Tiling. Shauman stopped a couple days before all of this started, and later came back with his Uniloader and Backhoe from his and Stanley Torrance's Dry Dams and Tiling business.
They began building a small levee, with the help of Dick Bigger's road grader, to the height they thought the water was going to be. Then, later that afternoon the predictions had been raised and they found out there was going to be two more feet coming. Since the water was start on building a second levee.
"Ron Bigger with the assistance of his supervisor Pat Campbell of IDOT, brought in 38 IDOT trucks that Sunday afternoon (Fathers Day) from as far away as Peoria to help.
"Without Ron Bigger and the help of IDOT, everyone on the North edge of Gladstone would be wet," Sebastian said. "Whatever I asked, he did. We needed sand, he brought us sand."
"Every day and every night, no matter when it was, you could guarantee Bigger would be here. I kept telling Ronnie that I'm going to put him on a pedestal. I had gotten so growly over the road not being opened.
"There were a lot of people who loss jobs over it, and went broke. I personally know of six people who lost their jobs."
One Gladstone man sitting with Sebastian said that he paid $500 a week for a hotel for his wife to stay in so she could keep running a family business they owned in Burlington.
Sebastians paid almost the same in gas as his wife works at the hospital each day and he makes deliveries to Winegards each day with his sandblasting business and said it was costing them $475 a week in gas.
Sebastians said there were a lot of other volunteers that needed to be thanked as well. All the volunteers that came and helped fill sand bags. And all the IDOT employees that came from so far away to help.
"In Oquawka, a gas attendant told me, some would actually cry after filling up their gas tanks knowing they had to drive all that distance through Fort Madison to get to Burlington to their jobs.
"The levee broke June 17th and the road wasn't opened until July 18th at 6:30 p.m.., and it need not be that long," Sebastian said.
Sebastian had made it his mission to see that the squeaky wheel got fixed, by calling the head of IDOT daily and pushing them to gravel the road and get it open in some way.
He even got others to call in and was even cautioned by his wife to let up.
He said, "If you want to keep driving through Fort Madison, I'll stop," but the whole idea infuriated Sebastian to think a foot or two of water could cost so many people so much.
Sebastian said he had been told by one person not to worry about others losing their jobs.
"This has caused so much hardship on people, but now I am just glad the road is open. They finally told me the last time I called at IDOT that the heat from Henderson County was on and they would be opening the road by the end of the week, but Bigger and his crew worked around the clock and got it open by Friday evening at 6:30."
"With Ronnie Bigger and Pat Campbell, of IDOT, we got no excuses, just action."
Now, Sebastian has kept true to his word, and has his Pedestal built and waiting."
The twenty or so homes and our businesses on the north side kept dry, thanks to Bigger and those who came to help, and our road is open, and I just want to give Ron Bigger and everyone else who helped, a great big "Thanks!"
Now, Sebastian, who's a Gladstone Village trustee, is trying to solve another problem, and that is to set a meeting with their Mayor to meet FEMA filing deadlines for financial assistance, he said.
---