The Hancock-Henderson Quill, Inc.

---
Meet Your Neighbor
By Misty Huston, Quill Staff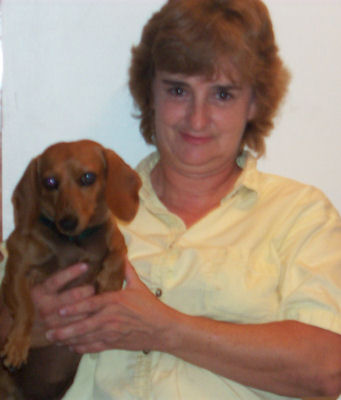 Meet Your Neighbor (my mom), Kay Galbraith of rural Gladstone.
Kay was born in Monmouth on September 11, 1952 and raised in Roseville. She graduated from Roseville High School in 1970.
After working for 24 years and raising two children as a single mother, she is thoroughly enjoying a "life of leisure" as a homemaker; taking care of her husband, Tom, her dog, Maisy, and helping out her family when needed. In addition, she works at Weir Fruit Farm, rural Gladstone, during apple season.
Two years ago yesterday (July 22nd) her dreams came true when she married the love of her life, Tom, who works at Case New Holland Global in Burlington, Iowa. That is what brought her to the neighborhood and how she became a Henderson County resident.
Kay is the mother of one son, Tom (Jenny) Rankin who lives in Huntsville; one daughter, Misty Huston who lives in Roseville; three grandchildren, Zach, Tyson and Tagen Rankin who live in Huntsville; two step-sons, Johnny who lives at Carthage Lake and Leroy who lives in Belton, Texas; one step-daughter, Saprena who lives in Hacker Heights, Texas; and two step grandchildren, Dustin and Brooke who live in Hacker Heights, Texas.
Kay is the daughter of the late Mildred Riggins and the late Bill Riggins. She also has one sister, Connie (Buzz) Leath of Galesburg.
She is a member of the Harmony Bible Church in Danville, Iowa.
In her spare time Kay enjoys horseback riding, horse races, picking berries, walks in the timber, gardening (both flower and vegetable), learning to shoot guns, spending time with and spoiling her three adorable grandchildren and the rest of her family, and most of all making her husband happy; which he tells me she does an excellent job of.
Some of her most cherished memories are from camping at the Illinois State Fair with her kids when they were younger; her wedding day, when her son, Tom, walked her down the aisle and her daughter, Misty, served as her Maid of Honor; a recent trip to Florida with her mother-in-law, June on which she got to visit the ocean for the first time; and a family vacation to The Lake of the Ozarks earlier this month.
---