The Hancock-Henderson Quill, Inc.

---
Spotlight: Dallas City Talks Carbon Black Clean-Up
By: Mitch Worley, Quill Reporter
Dallas City is still reeling from a 30,000-pound spill of a rich, powdery substance known as Carbon Black that has raised the ire of those in and around the community.
Many members of Dallas City, as well as representatives from the Hancock County Emergency Services and Disaster Agency (HCESDA) met with the company contracted to clean up the mess called HMHTTC to assess the situation and configure a practical and cost-effective strategy to eliminate the problem.
Those that showed up to pose questions about how much longer the Carbon Black would be a factor in their lives were relieved to hear HMHTTC's Chris Wagner proclaim that he wasn't leaving until things were back to normal again in Dallas City, stating a that he has a "motivational factor" to get the job done quickly.
Although HMHTTC has been working for a couple of weeks now to clean up the excess Carbon Black that has infiltrated Dallas City, there is still a great deal of work that needs to be done before the job is finished.
In talking about specific objectives involving the clean up, Wagner said, "The big goal right now is to get to the point where nothing will spread back into houses."
The major issue with Carbon Black has very little to do with the minor irritation to the skin, lungs, and eyes, it's essentially the fact that it spreads quickly, is unsightly, and is very tough to remove from the surface is affixed to.
Since it is so hard to remove, this has caused more than 200,000 pounds of Carbon Black covered items to be removed from the Dallas City area, about seven times the weight of the Carbon Black that was actually spilled.
The focus shifted to a concern on whether or not there would be enough money to go around for the clean up of individual residences, and they were again assured that the more than 300 homes on the list to be inspected will be allotted proper funds to eliminate each individual problem pertaining to the Carbon Black spill.
Wagner suggested that those affected by the spill wait to receive their checks before starting individual clean up efforts, but left it up to the residents to deal with it as they saw fit.
If people do in fact begin cleaning up before receiving their check, they can save the receipts and turn them in at a later time.
HMHTTC is helping people clean up what they can on their own within their homes by giving a cleaning agent called Zep Big Orange.
Wagner advised that even though this cleaner is all natural and won't cause any harm to people or their pets, not to actually clean people or pets with it.
The clean up crew is hoping for a great deal of rain to help wash away some of the Carbon Black, but unfortunately that could have an adverse effect on those within the community and surrounding area that dealt with a flood that lead to President Bush and Governor Blagojevich declaring much of West Central Illinois a disaster area.
As a great deal of this substance has been contained, there is still a great deal of work to be done, and unfortunately, not all of the Carbon Black will be extracted.
Once the Carbon Black gets too far into the ground, it is impossible to remove it.
For up to date information about street closings and other important notices regarding the Carbon Black situation, check out www.hancockhealth.com, www.readyillinois.com, and the Dallas City community webpage.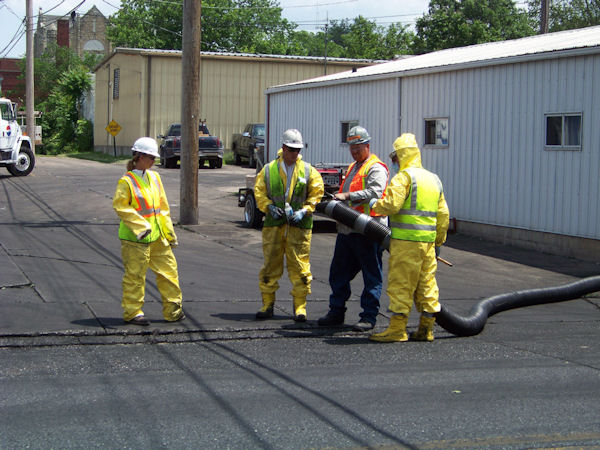 "This has been a familiar sight for those living in Dallas City recently."
---